We're revealing the 'dark side' of unneutered cats
This World Spay Day (25 February) we're joining other charities in raising awareness of the urgent cat crisis. We're joining other cat and vet organisations in highlighting the need to neuter cats in order to tackle the cat overpopulation crisis.
World spay day event list 2020 (PDF 662KB)
70% of owners said that their pet's litter wasn't planned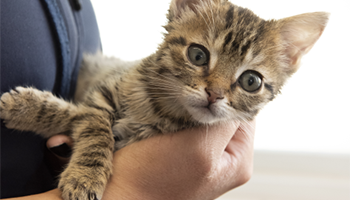 With an estimated 800,000 unneutered cats in the UK and with each cat capable of having on average 1.4 litters a year, we're facing an overpopulation crisis in the UK.
Research shows that of those cats who have had a litter, 70% of owners said that the litter wasn't planned. Unplanned litters can result in unwanted cats and kittens coming into the care of charities.
We rescue more cats than any other animal
We dealt with more than 100,000 incidents relating to cats in 2019 and rescue more cats than any other animal. Carrie Stones, our Cat Neutering and Welfare Project Manager, said:
As a charity, we often see the dark side of the cat overpopulation crisis, from unwanted litters of kittens being abandoned by the roadside to elderly cats waiting in our care because there are no homes ready to adopt them. World Spay Day provides an excellent opportunity for charities to come together and highlights the importance of spaying and snipping, which has so many health and welfare benefits for cats.
An unneutered female could have more than 180 kittens in her lifetime and research shows that many of these cats will be given to friends, family and neighbours who are likely to repeat the same behaviours and not neuter their cats before they can become pregnant, therefore creating a cycle of young cats having kittens themselves.

All over England, Wales and Scotland, there are schemes available to support the public to neuter cats and other companion animals. The Cat Population Control Group (CPCG) in partnership with national charities are asking you to take that step to neuter and to help us prevent illness, suffering and abandonment.
Kittens should be neutered before four months old
The CPCG believes neutering a cat from four months old, before they can become pregnant, is the key to tackling the cat crisis and avoid unexpected and unwanted litters of kittens being born.
Only 37% of people surveyed in an NFP Synergy awareness survey last year had heard about the benefits of neutering cats, and just 26% of people were aware of the cat overpopulation crisis and the importance of neutering at four months old.
Jane Clements, Head of Neutering at Cats Protection, said:
World Spay Day is a great opportunity to realise the importance of protecting pet cats by getting them neutered without further delay. You can neuter your pet from four months of age which will help to prevent the onset of some cancers and other diseases. The PDSA estimates that 92% of owned cats are neutered so on World Spay Day, make sure your cat is one of them.
The PDSA PAW report 2019 estimated 8% of cats are unneutered and with 10.9million pet cats living in the UK that means over 800,000 unneutered cats in total. The report also highlighted the top reasons why owners don't neuter their cats; their cat doesn't go outside (18%), they hadn't thought about it (14%) or they haven't got around to it (12%). This shows that further education around the benefits of neutering is needed.
The benefits of neutering your kitten
Neutering prevents the risk of testicular cancer in males.
Reduces their instinct to urine spray and to fight other cats. Therefore reducing their chances of contracting diseases resulting from mating and fighting such as FIV.
Can help reduce roaming and therefore the risk of being run over.
For female cats, neutering reduces the risk of uterus infections and cervical, ovarian and mammary cancers.
It also reduces their chances of contracting Feline leukaemia and FIV.
Cat neutering schemes near you
Cat Smart in Sheffield
Cat Smart is an RSPCA-funded project aimed at easing the cat overpopulation crisis in Sheffield, which is below the national average for neutered cats. The project holds free neutering events in the community, offers discount vouchers for microchipping and neutering and also provides education for the community on cat care. Since it started in 2017, the scheme has seen 1,877 cats neutered including 1,001 females with estimated prevention of up to 18,018 kittens.
Cat Neutering in the West Midlands
This project is run by ourselves and Cats Protection and covers Herefordshire, Shropshire, Staffordshire, Warwickshire, West Midlands county and Worcestershire and offers discounted neutering for those eligible in these areas for pet and stray cats.
Cat Watch
Cats Protection has been working with local communities in Bulwell, Everton, Nottingham and Houghton Regis, to try and control cat numbers and keep an eye on the stray cat population. The 'Cat Watch' app can be downloaded from Google Play or iTunes and the charity has been asking people who see a stray cat to take a picture and send it via the app. This is a research project which aims to help Cats Protection improve the welfare of stray cats in their community.
Cat Care and Control Consortium (C4) in London
C4 is a group of animal charities and organisations who set up the scheme in 1999 to try and tackle the problem of too many cats in Greater London. It offers free neutering for cats within the M25 area whose owners receive benefits, are on a low income or are students. The scheme also includes the neutering of stray cats and so far has neutered nearly 150,000 cats in London, at around 10,000 a year.
Scottish SPCA
The SSPCA works in partnership with the University of Glasgow and has been offering a reduced cost neutering programme for dog and cat owners in the G51, G52 and G53 postcodes. Procedures are carried out by the University of Glasgow final year veterinary medicine students with supervision from a fully qualified vet. This means it's an education practice for students as well as a service for helping cats and members of the community. The programme offers discount neutering for pet owners in Glasgow saving them around £65 for each procedure.
Multi-cat project in Manchester
The project works with multi-cat households in Greater Manchester working with people struggling to cope with numerous pets to help them reduce the number of cats and neuter their remaining cats in order to help regain control of their pets. This is based from our Greater Manchester Animal Hospital in Salford and also includes a mobile neutering bus. Last year we visited 68 houses and neutered nearly 500 cats.
Find your local event
To help our hard-working continue rescuing, rehabilitating and rehoming animals in desperate need of care please consider making a donation today.
---