null
We're reassuring cat owners during coronavirus crisis
We're reassuring cat owners during coronavirus crisis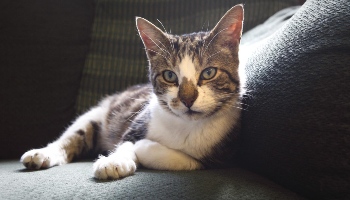 We're aware that owners are concerned about their pets during these challenging times and the impact coronavirus can have on them, as well as whether they pose a risk to human health. However, to date, there is no known evidence of the virus passing from pets to humans.
Recent news reports may have left pet owners feeling particularly concerned about their cats and the possible impact of Covid-19 on their furry friends, but we're reassuring owners that the risk is incredibly small.
Take sensible precautions with your cats
Dr Samantha Gaines, our head of the companion animals department, said:
We're advising cat owners not to worry and to take sensible precautions, as we would advise at any time, such as washing your hands before and after stroking your cat, as advised by Defra, and avoid being kissed, licked or sharing food with them.
A very small number of animals have been reported to have tested positive for, or shown symptoms of, COVID-19. Some of these animals were deliberately exposed to the disease in an artificial setting which did not represent real life. The others were cases where the virus has reportedly been passed from a person to an animal. Importantly, to date, there is no known evidence of the virus passing from pets to humans.
Risk of infection is incredibly small
Even in cases where people have passed the virus to other animals, the risk is incredibly small, especially when set against the large number of cats and dogs who share our homes. 17% of UK households share their homes with 7.5 million cats and 25% with 12 million dogs.
We're basing our advice on the most up-to-date scientific evidence available and we continue to monitor the latest science and government advice.
Coronavirus and cats
Dr Gaines continued:
However, like human hands, pet fur could carry the virus and so it is important to adopt good hygiene when interacting with our pets, especially if they could have been in contact with other people. This means thoroughly washing hands with soap and water after interacting with them and avoiding being kissed or licked and sharing food with them. As a precaution, we would also advise against touching a cat that you do not know while out exercising.
If you are ill and self-isolating with the virus or someone else in your house is, then we are advising that if your cat is happy to stay in and is used to using a litter tray then keeping them in may be advisable. If they go outside a lot then try to minimise interactions and wash your hands afterwards. We do not recommend keeping a cat inside who is used to going out as this may cause stress and potentially serious health problems.
It is so important we continue to care for our pets who bring us such comfort during this difficult time and make sure we do not do anything which would compromise their welfare.
Keeping you updated with the latest information
We're monitoring the situation closely as it evolves at pace and advises all pet owners to take sensible precautions around their pets, as well as avoiding touching other animals outside of their homes.
Cat owners can also wipe their cats with a damp cloth or pet safe wipe after they come indoors. Don't use disinfectants or other chemicals on your cat as many household human disinfectants are toxic to cats.
For more information or any advice on caring for your pet during the crisis, please visit our Coronavirus hub page.
We're still rescuing an investigating animal cruelty
Since the crisis deepened at the beginning of March, our animal cruelty line has received nearly 60,000 calls and its officers, animal care staff and vets continue to rescue and care for animals in need.
To help us keep rescuing animals like these and keep our animal hospitals and centres running for emergency treatment and round the clock care through these unprecedented times, please donate online if you can.