We're hosting our magical Christmas concert - and you're invited!
Animal lovers are invited to enjoy an evening of music and entertainment to support those animals most in need at this time of year.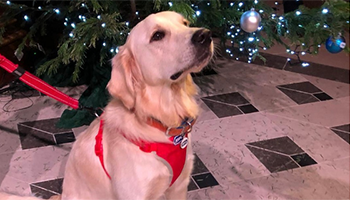 TV presenter Matt Johnson is leading a chorus of special guests at a Christmas concert in aid of the animals in our care.
Matt - one of our ambassadors - is calling on animal lovers to come along and support our work at St Andrews Church, Holborn on December 3.
Tickets cost £20 and can be purchased online, with all proceeds going towards helping animals in need.
Guests can look forward to performances from the London International Gospel Choir, and enjoy singing along too! There will be mulled wine and mince pies served and the opportunity to buy stocking fillers from our stall!
Christmas is another day at the office for our committed team
Our inspectors, animal welfare officers, and animal centre staff work 365 days a year to care for animals and Christmas is no exception.
On Christmas day in 2018, we received 934 calls to our cruelty line - the highest number for five years and a 28 percent increase compared to 2017. Matt said:
We all know it's important at this time of year to give something back. Animal welfare is a cause close to my heart and I have followed the RSPCA's work for a long time.
It's heartbreaking to think of all the thousands of animals who will be spending Christmas in rehoming shelters this year, but thank goodness for the tireless work of RSPCA inspectors and animal carers who do their best for animals 365 days a year.
I hope you can join me at the event as I know it'll be a great evening and a chance to celebrate the work of the RSPCA.
Our Chief Executive, Chris Sherwood, said:
This is a new event in our calendar and the first time the public have been invited to celebrate at Christmas with us.
As we go into 2020, we're looking forward to our 196th year working tirelessly to improve the lives of animals, and that doesn't stop over the festive season.
We have achieved a lot this year and have a cause for celebration in some respects but we always know there's more to be done to help animals and I'm looking forward to reflecting on that with our supporters and animal lovers.
We will be preparing at least 3,000 dogs and 4,000 cats with no home to call their own on Christmas Day.
The hard-working carers and volunteers in our branches and centres try to make this time of year special for the animals by saving up donated treats and toys for them.
Find out more about our Christmas concert and buy your tickets!