We're bracing ourselves for another busy festive season
December 10 is the busiest day of the month for emergency calls to our helpline.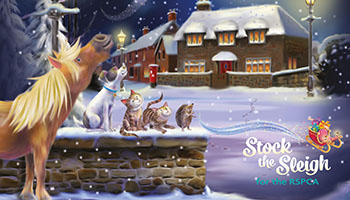 Our inspectors, animal welfare officers, and animal centre staff work 365 days a year to care for animals and Christmas is no exception.
Last year we took nearly 1,000 calls on Christmas Day alone
On Christmas day in 2018, we received 934 calls to our cruelty line - the highest number for five years and a 28% increase compared with 2017.
December itself is a busy month with 59,121 calls - 2,530 of these were in just one day on December 10.
Between December 18 and January 2, there were 30,188 calls - another increase compared with the 25,721 calls received the year before.
Dermot Murphy, our Chief Inspectorate Officer, said:
Sadly each year our officers are out rescuing animals from cruelty and neglect often made worse by adverse weather conditions.
This same week for the previous two years has been the busiest week of December so I know our cruelty line is going to be inundated with calls reporting concerns to us.
That's why we've launched our Stock the Sleigh appeal to help the 10,000 animals we expect to take in over the winter as we cannot do this alone, we need help and kindness from the general public. Just £25 could help us keep answering these phone calls every day of the year as well as providing a safe bed and food for an animal in need.
Winter has already been busy for our teams
Already this winter we've seen incidents including:
On December 2, we launched an appeal after 30 dead and dying Koi Carp were found dumped in Basingstoke.
On November 28, we were called to rescue two swans shot in the head in a canal in Chichester.
On December 3, we took in a young cat from Luton, believed to have been abandoned by her owners before being callously shot in the leg.
Help animals by Stocking the Sleigh
It costs around £670,000 to run one of our animal centres for a year. You can make a generous donation to Stock the Sleigh and help animals in our care.
£7 could keep an animal warm with a soft and cosy blanket
£15 could give the gift of comfort - a warm blanket, treats and toys
£25 could give the gift of safety - it could help answer a phone call, provide a safe bed and food
£40 could give the gift of care - providing essential veterinary care and medicines
To help us deliver vital supplies to thousands of abused, neglected and abandoned animals left out in the cold this Christmas, please Stock the Sleigh and watch your virtual gift fill up our sleigh with a grateful wag from Sprout the dog.