Understanding canine arthritis and helping your ageing dog
A guest blog on arthritis, written by Amy Ockelford, our passionate Press Officer and dog mum to Sammy.
While none of us want to admit it, the day will eventually come when our once bouncy, bounding puppy will become a golden oldie.
While you no longer need to think about house training or socialisation classes, it can bring with it a whole host of new considerations and challenges.
Sammy was around eight-years-old when he joined our family. He was full of beans. He'd run laps around us; tearing through puddles and brambles in the woods.
For those who know him now - toddling quietly into the office and snoozing silently in his bed all day - it sounds as though I'm describing a different dog. But he's 14 now and life now goes at a very different pace - particularly since he was diagnosed with canine arthritis last year.
Arthritis affects 4 out of 5 dogs
Canine arthritis is the most common cause of chronic pain in dogs and affects four out of five older dogs.
While it can be prevalent in specific breeds - particularly those who have been selectively bred to be large and heavy - it can occur in dogs of all shapes, sizes and breeds.
Looking back, I wish I'd had better awareness around the early signs and symptoms so I could have sought help much earlier.
But now, six months after starting discussions with vets and trying different medications and adjustments to Sammy's life, he's much more comfortable and has a better quality of life; which is the most important thing.
The best tip I can give, is to seek veterinary advice as early as possible. For too long I said to myself - and others - how Sammy was 'slowing down' and 'getting older'. Of course, he was - but these changes can also be early signs of arthritis. Signs that are easy to miss if you assume that your dog is simply getting older... The earlier you start making changes, the better!
My 10 top tips for helping a dog with arthritis
There are some really simple changes and alterations you can make around the house and in your daily routine to help any dog who is suffering from joint stiffness or arthritis:
1. Seek medication
I found a wonderful vet who really understood how to manage Sammy's pain and make him more comfortable. Sammy now has an anti-inflammatory each morning and painkillers each evening which seem to be working well (plus he's happy that he gets each pill rolled up in a bit of cheese!).
2. Get a second opinion
Don't be afraid to ask for more than one opinion - different vets have different areas of expertise. Finding a vet who supported Sammy and I in dealing with this ongoing condition was critical.
3. Daily supplements
In combination with regular vet check-ups and his prescription, Sammy has a daily joint supplement or 'nutraceutical'. There are many on the market and the quality and evidence base varies a lot, so speak to your vet. They're not a replacement for effective prescription medications, but can be a great help!
4. Ask for professional help
As well as speaking to my vet, I also sought help from other therapists. Your vet can suggest reputable practitioners and may recommend veterinary physio or hydrotherapy.
5. Treat your dog to a new bed
I invested in a specialist orthopaedic bed which is very firm and supportive. I've also made sure that Sammy has access to several beds around our house - of different designs and shapes - so he can choose which is most comfortable.
6. Regular, short walks
I always felt it was important for Sammy to have two good walks a day - with lovely long walks at the weekend. But, for arthritis, regular short walks are much better and so Sammy now has three to four, 10-15 minute walks a day and the pace is always guided by him. Sometimes he might lollop around the fields, sometimes it's just to the end of the road and back.
7. Remember to check the terrain
I try to avoid walking too far on hard surfaces like concrete and tarmac, opting instead for soft grassy routes. And during the wet weather, I try to avoid areas that are particularly muddy, slippery and boggy. It's also important, if possible, to stick to flat areas and to avoid steep inclines and declines.
8. Invest in a stairgate
Sammy always had full run of the house and would hurtle up and down the stairs. But, I soon learned that stairs put a huge amount of pressure on their joints so we now have a stairgate to block upstairs.
9. ... and a coat!
Sammy has always been a hot dog and never seemed to feel the cold, so I never considered getting him a coat. But the cold weather can really exacerbate arthritis and stiffness and so now he wears a dashing purple coat whenever it's chilly or wet (and looks very smart in the process!).
10. Try to make your home less 'slippery'
I guess, like most people, a lot of the floors in my house are slippery - and sliding is not a good motion for dogs with joint problems. So we've positioned various mats around our house to give Sammy extra grip in certain areas; such as where he eats and drinks.
Find out more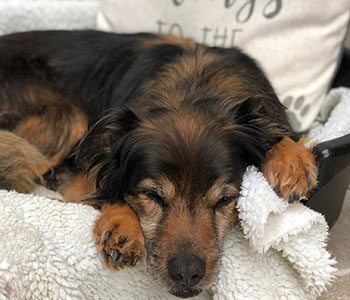 Adjusting life around Sammy's arthritis has been a learning curve - and it's been costly at times.
But having a dog is a lifelong commitment - and that includes ensuring they have the best quality of life when they reach their senior years, no matter what.
There's nothing that I wouldn't do for him. And I hope it means I'll have him by my side for many more years to come.
---