Transformation of lonely dog left alone and freezing on New Year's Day
Ducky suffers from a long list of allergies and will need life long care.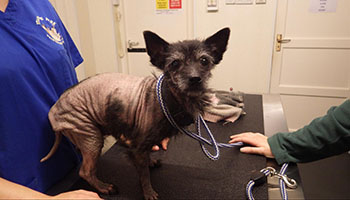 A female terrier found alone and freezing on New Year's Day is now thriving thanks to the hard work and dedication of our hardworking staff and volunteers.
Ducky was found by inspector, Lucy Hoehne, in the backyard of a property in Bishop Auckland, County Durham on January 1 this year - after neighbours raised concerns.
Ducky was mostly bald due to untreated allergies and was wearing a tatty Christmas jumper. Lucy said:
I was unprepared for the heartbreaking sight that met me that day. Poor Ducky was shaking and terrified alone in a garden at a time of year when so many pets are getting pampered and spoilt by loving families.
She'd been there since the early hours of the morning listening to the New Year fireworks going off and was in such a state.
It's heartwarming to see how far she has come and although she will never fully recover due to the seriousness of her allergies she can now live a happy life thanks to the dedication of our branch who helped her and the fosterer who has taken care of her.
Ducky found to be extremely allergic
Ducky was taken into short term foster care before being taken in by our Darlington district branch due to her long term condition. They have funded allergy testing to help understand why her fur had fallen out.
Investigations have found that Ducky is allergic to; four types of grasses, rabbit, lamb, fish, chicken, pork, beef, eggs, tuna, turkey, rice, cows milk, and many grains including wheat, barley and oats. She's allergic to seasonal grasses making walking her very difficult at certain times of the year.
She exists on a diet of hypoallergenic food - costing £68 per month - and bottled water. Her dedicated branch fosterer also bathes her regularly and rubs coconut oil into her skin.
But it's not all sad news for Ducky - named after the dinosaur in Land Before Time due to her hard scaly skin - she lives a happy life with her carer and has a home waiting for her when the time is right.
The fosterer, who lives in North Yorkshire, said:
It's been challenging making sure Ducky is comfortable but she's now living a happy life and her little personality is really shining through which makes everything worthwhile.
I take her to my allotment and she steals the pea pods to munch on. She's a real character and very well-liked by everyone who meets her.
I have two other dogs and Ducky is very confident around them, in fact, she's even had a positive impact on their lives as one, in particular, has a strong bond with Ducky.
She cuddles up with her cuddly octopus each night for her sleep and loves a ride in a car as well as her favourite snack - peas and carrots.
She's a strong cookie and thanks to the dedication of Lucy and the branch - who never gave up on her - she is able to live a relatively normal life.
Busy Christmas expected as usual
Our inspectors, animal welfare officers, and animal centre staff work 365 days a year to care for animals and Christmas is no exception.
On Christmas Day in 2018, we received 934 calls to our cruelty line - the highest number for five years and a 28% increase compared with 2017.
This winter, we expect to take in more than 10,000 animals in need. To help us deliver vital supplies to thousands of abused, neglected and abandoned animals left out in the cold this Christmas, please Stock the Sleigh today.