Today, we're welcoming 23 new inspectors to help make a kinder world for animals   
Today we celebrated with our newest recruits with a special graduation ceremony.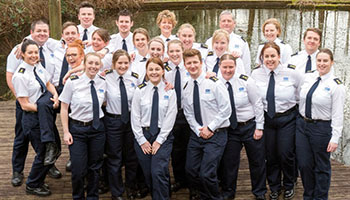 Our newest recruits officially graduated today after passing our unique training course with flying colours!
Each individual was tested on their ability to tackle water rescues and mountain rescues amongst other challenges, to prepare them for their future helping animals across England and Wales.
Celebrations follow 12-month of hard training
Today (February 21) a graduation ceremony was held at our head office in Horsham, West Sussex in front of proud friends, family and wider team-members.
Following the 12-month training, the 23 new inspectors will now be filling frontline posts around the country, rescuing all kinds of animals - from hedgehogs to horses.
The new inspectors were whittled down from more than 2000 applicants hoping to be part of our vital work to create a world that is kinder to animals.
Our Chief Executive, Chris Sherwood said:
Those on the frontline of the RSPCA are the lifeblood of our charity - without their love and passion for the job we would not achieve the RSPCA's ultimate goal to end cruelty to animals.
It's wonderful to see such hard-working and compassionate people getting the recognition that they deserve.
We hope they have long and happy careers with the RSPCA and are able to assist lots of animals - and sometimes people - who need a helping hand.
We're the only charity to care for all animals
Inspector, Dermot Murphy, said:
The training for inspectors is as unique as the job - and not everyone has what it takes to be an RSPCA inspector.
We're all so proud of this year's team who took on every challenge with a positive attitude and approached each fresh challenge with level-headed composure.
No one else does what the RSPCA's inspectors do and England and Wales would be a much worse place without them, so I wish them the very best as they step out in their vans and continue to stand up for animals in their new roles.
It costs £50,000 to train and equip a new animal inspector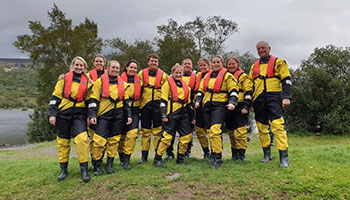 Each new inspector was presented with a certificate and diploma to mark their graduation and completion of the course - which involved seven months in the classroom as well as a range of practical assessments.
Each of our committed inspectors cover, on average, an area of 172 square miles - compared to the police force which has a police officer covering an average area of half a square mile.
It costs £50,000 to train and equip a new animal inspector. To help our hard-working team to continue to train officers and inspectors who rescue, rehabilitate and rehome or release animals every day, please consider making a donation today on behalf of the animals who will need rescuing.