To the rescue!
Baby foxes saved by determined Mariam, just in the nick of time
Four orphaned baby foxes were saved from their den after their mother sadly died. Our animal rescuer Mariam Adwan was called out when a man heard cries coming from under the shed in his garden.
We'd previously visited the garden, in London, to attend to a poisoned fox and suspected she may have been a new mum. Mariam was sadly unable to save the fox as she was just too ill, but asked the man to keep an eye and ear out for any signs that she had cubs nearby.
Mariam said:
"He rang me that night to say he could hear squeaking and cries.
"I hurried back and we used bricks to smash through the concrete under the shed, then began digging with our bare hands in the mud. It took us 90 minutes but I was determined not to give up on those cubs."
Race against the clock
Finally, they broke through under the shed and Mariam used the torch on her phone to see what was down there.
Mariam added:
"I could see the tiny cubs and just about reach them, so I carefully pulled them out one by one. They were crying and frightened. I was really worried as they were very cold, so I quickly transferred the cubs to a cardboard box with my emergency Winnie the Pooh hot water bottle to warm them up!"
Mariam rushed the babies to a nearby wildlife centre where they said the cubs probably weren't even two weeks old. They still had their eyes shut and were underweight. But as you can see from these heartwarming photos, they were soon sleeping soundly in their new temporary home.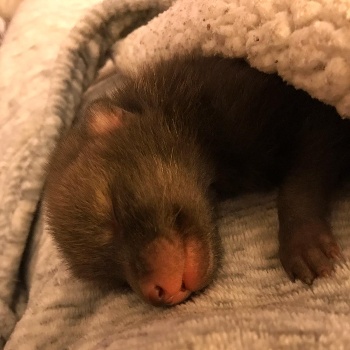 And we're pleased to report all four cubs, three girls and one boy, are doing well and getting chubbier by the day. As soon as they're strong enough, they'll be safely released into their natural habitat once more. Hurrah!
What a hero!
Even though most of us are staying home at the moment due to the coronavirus crisis, our brave rescuers are classed as key workers - people like doctors, nurses and other emergency services helping to keep people, and animals, safe. Thank you Mariam and all our hardworking staff for all that you do.