The Great Debate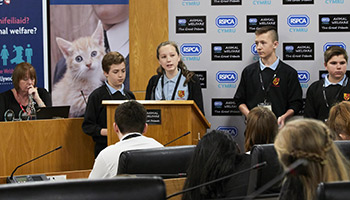 'Animal Welfare: The Great Debate' gets students in schools to actively engage with animal welfare and think critically about issues concerning animals.
This groundbreaking school project involves pupils aged 11-14 who represent their school in debates on animal welfare topics in regional heats across the two countries. The winners of these heats progress to national finals hosted in the UK and Welsh Parliaments, and debate 'Who is responsible for animal welfare?'.
Children taking part will gain an understanding of the responsibility we have for animals, as they research and discuss the issues they're debating. They also learn about the importance of participating in political processes, and the impact that this can have on animal welfare.
Thank you so much for such an organised and fantastic event. Our students had a fantastic time and learned a lot from the experience. I cannot thank you enough for providing this, it is an opportunity that our students rarely get and is so vital to improving communication and confidence. Thank you again
- Teacher Feedback (Reading Heat)
What we've done so far
Since 2015, we've held the event 'Animal Welfare: The Great Debate', with KS3 students from schools across England and Wales. The project has promoted wide discussion of animal welfare topics in schools and its success has led to many teachers now including this as part of their examination syllabus.
An excellent foundation for G.C.S.E requirements.
- Teacher Feedback (Cardiff Final)
Get your school involved
Let your school know about The Great Debate! You can find out more information or register to enter the 2019/2020 programme by emailing greatdebate@rspca.org.uk.
I just wanted to say a big thank you to you for taking [my child] to the debate yesterday. He really enjoyed the whole day. He is especially interested in Politics and he found it particularly interesting to go into the Chambers, see where the MPs sit and meet a real-life MP!
- Parent Feedback (London Final)
---