The Great Rabbit Escape!
A rabbit who was rescued by us from a multi-bunny household, where fighting injuries had permanently damaged his ear, is now looking for a more peaceful life.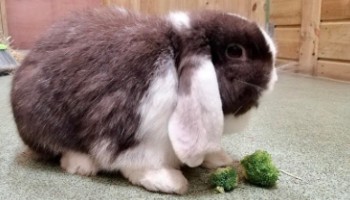 Poor Tiny, a 12-month-old lop rabbit, is being cared for by our Canterbury branch in Kent where he's been looking for a home for the last six months.
He's a friendly and active rabbit who's proven to be very mischievous and has been dubbed the Houdini of the rabbit world after jumping out of his pen.
An excellent addition to any family
Natalie Archer, chair of trustees at RSPCA Canterbury, said:
Tiny is currently our longest-stay animal having come into our care in September last year. He was living in a multi-pet household which had started out with two rabbits but then breeding had become out of control. Tiny was housed with another male rabbit which led to fighting and means he has permanent damage to his ear.
He's very active and has been known to be a bit of an escapee. We nicknamed him Houdini after he jumped higher than I've ever seen a rabbit jump and escaped his pen so he will need a nice, secure, and high enclosure when he's rehomed as well as lots of space to run around, explore and eat his favourite snacks.
He just loves climbing and exploring so will need an owner who can provide lots of stimulation and would also like to be rehomed with a friendly, neutered female. Our intrepid little explorer will make an excellent addition to any family.
Rabbits need large enclosures
Research shows that a wild rabbit can jump over a 75cm fence but the Guinness World Record suggests the highest rabbit jump was 99.5cm. Although rabbits are able to jump relatively high, the staff at the centre haven't seen any rabbit jump as high as Tiny before.
Natalie added:
The gate is 95cm high and although he did have a little bit of a springboard on the other side, it's still a very high jump! It really goes to show just how active rabbits are and proves that keeping them in a small hutch really is no life for a rabbit. They need a large enclosure with an attached run so they can get plenty of exercise.
If you think you can give Tiny a loving home, contact the RSPCA Canterbury branch on 01227 719113.