Take a look at all the adorable baby animals our staff are taking care of
While most of the nation is holed up at home following Government guidance to socially distance and self-isolate, it seems wildlife didn't get the memo.
Our staff have been busy rescuing and caring for lots of baby animals in need of a helping hand. Here are just some of the babies our dedicated staff are currently taking care of.
Baby bunny found alone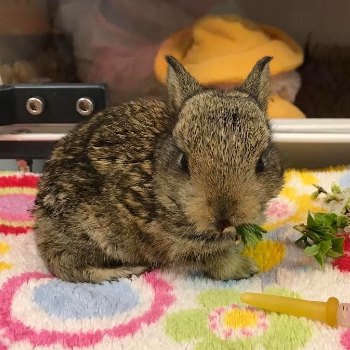 This tiny baby bunny was found thin and dehydrated alone in Bridgend, Wales, on 15 March. Animal collection officer Ellie West collected the little rabbit and took her in for specialist care. Ellie said: "She's too young to be away from mum so we put her in an incubator to warm her up and have been hand-rearing her. She started to feel much better with a full tummy! Once she's old enough we'll release her back into the wild."
Wildlife care assistants at West Hatch Wildlife Centre in Taunton, Somerset, are also hand rearing four baby bunnies who arrived on 14 March after being found in a nearby field inside a bale feeder by a farmer who was changing the hay.
Baby tawny owls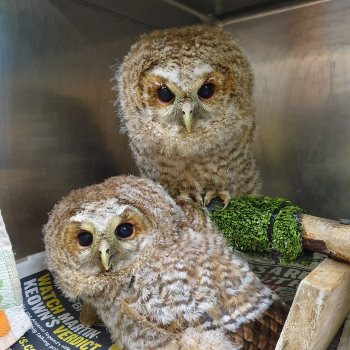 A pair of baby tawny owls were found by a worker at Wigan Waste Water Treatment Works in Ormskirk, Lancashire, on 13 March and our animal collection officer Heather Cook went to collect them. She said: "These gorgeous owlets were small and very young. While it's normal for young tawny owls to explore their surroundings I was quite worried about them. One in particular was not looking too good, so I took them to a local vet to be checked over."
The fluffy pair is now being cared for by staff at Stapeley Grange Wildlife Centre in Cheshire. Once they're old enough they'll be released back into the wild.
Baby wood mice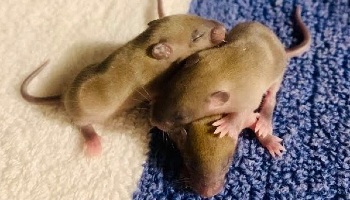 Eight tiny baby wood mice were found in a second-hand rabbit hutch someone had bought. When they went to set the hutch up in their garden in Rotherham, South Yorkshire, they found the nest with the baby mice inside. As they had no idea where the mother was they called us for help and inspector Kim Greaves collected them. Her colleague, Liz Braidley, took them in and hand-reared them until they were moved to Stapeley Grange. Liz said: "They're very lucky to have been found and are extremely lucky to survive without their mum."
Orphaned fox cubs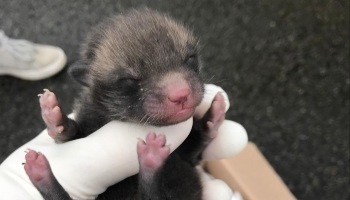 Two fox cubs needed help from us after being found with no sign of their mums. One arrived at Putney Animal Hospital, in London, on 6 March having been found crying alone in a garden in Twickenham. Vet Michael Lazaris, who helped to hand rear the tiny cub, said:
The member of the public had spotted the cub in the garden and heard her crying. After monitoring her for several hours and seeing no sign of mum, they came to us for help. We've been hand-rearing her but she's now moved to The Fox Project who will rehabilitate her until she's ready for release.
Animal collection officer Louis Horton collected a second fox cub from Sunbury-on-Thames, Surrey, on Thursday 19 March. He said: "The caller had found the one-week-old cub the previous day and had been hand-rearing him believing he was a kitten! When a friend pointed out he was a fox cub she called us for help. I went to collect little Franklin and took him to Wildlife Aid who will integrate him with a group of other cubs."