null
Summer advice for families getting a dog as puppy farm reports soar by 390 percent
Summer advice for families getting a dog as puppy farm reports soar by 390 percent
Thinking of getting a puppy during the summer holidays? Be cautious if you're hoping to buy a dog instead of rescuing a furry friend.
We're urging families thinking of getting a puppy over the summer holidays to consider adopting a rescue pet as new figures reveal that reports about puppy farms have soared by 390 percent in the last decade.
We'd urge you to consider rescuing instead of buying a puppy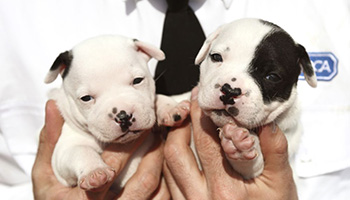 We're issuing advice to prospective dog owners as new figures, released Wednesday, reveal that puppy farms continue to be a growing problem.
Our dog welfare expert, Lisa Hens, said:
"It's distressing that we're still seeing so many reports about puppy farms but part of this increase is probably due to people being savvier about what to look out for when getting a pet.
"We know there's a spike in people searching for puppies and buying dogs at the beginning of the school holidays but we'd urge families to carefully consider whether getting a dog is right for them. Dogs are a huge commitment and need lots of time and attention, even once summer is over and the kids are back at school.
"If you do have the time and money for a dog then we'd urge you to consider rescuing instead of buying a puppy. Not only will this give a rescue dog a chance at finding his forever home but it'll also save any potential heartache caused by unwittingly buying a dog from a puppy farm."
A year-on-year increase in complaints
The warning comes as new figures reveal that last year was the worst yet for complaints about the puppy trade in England to our 24-hour emergency hotline. We received 4,357 complaints last year alone - a 390 percent increase on 10 years ago when we took just 890 reports related to the underground industry.
There has been a year-on-year increase in these reports over the past decade as more and more unscrupulous breeders and dealers seek to cash in on a growing puppy market - where dogs of certain breeds can sell for hundreds or even thousands of pounds.
Lisa added:
"After our teams campaigning for years, the Government last year finally introduced tougher licensing regulations around the breeding and selling of animals - including dogs - which we hope will help crackdown on this multi-million-pound industry.
"The Government has also committed to a ban on the third-party sales of puppies and kittens which will also help to tackle puppy farms and dodgy dealers.
"However, we also need to educate the public to ensure that they only buy puppies from responsible and reputable breeders who prioritise the health and welfare of their dogs over profit."
Top tips for families buying a puppy this summer
Do lots of research and make sure you can commit to your new dog before bringing him home.
Adopt don't shop - visit your local centre to see if you can offer a rescue dog a home;
Use the Puppy Contract - a guide to help you find a happy, healthy dog.
Ask for advice from friends and family who already have dogs, vets and welfare professionals.
If you're concerned about something you see at a breeder then walk away, don't buy the puppy and report your concerns to our helpline on 0300 1234999, police on 101 or your local council.
Family left heartbroken after bringing home puppy
A family were left 'heartbroken' when they awoke to the news that their puppy - who they'd bought just three days earlier - had died.
The Cann family had been thinking of getting another dog after losing their dachshund and when they saw an advert for dachshund puppies online, they contacted the seller, in Kent.
"Within 10 minutes of coming home she went to the toilet and I knew something wasn't right"
Denise Cann said:
"When we arrived at the home everything looked fine. The woman went to get Ruby and brought her into the living room to meet us. Stupidly, we didn¿t ask to see the parents but I did ask how many dogs she had and she said she had five. Ruby seemed fine. She was wagging her tail and seemed to enjoy cuddles with us."
They paid £695 in cash for the pup and left to make the 50-mile journey home to Tollesbury, Essex, where they live with two of their three children; their 12-year-old son and 18-year-old daughter.
Denise added:
"Within 10 minutes of coming home she went to the toilet and I knew something wasn't right. There was blood in her faeces and it was really watery."
They called the seller who said it was as a result of the journey. But overnight, the tiny pup got worse. The following day they took her to the vet who told them to monitor her closely. When she deteriorated they rushed her back to the vets.
Denise said:
"The vet decided to stay with her overnight and we called every few hours to see how she was doing. We were so worried about her. At 7am the following morning the vet called and explained that he believed she had parvovirus and that she'd continued to go downhill. He recommended that the kindest thing for her was to put her to sleep so my husband rushed over there and she passed away.
"It was heartbreaking. The whole family was devastated."
The Cann family reported the incident to our helpline and we launched an investigation which led to a warrant at a property in Kent where 38 dogs and 18 cats were removed.
There are lots of benefits to adopting a rescue dog from a reputable organisation. Giving a rescue pet a second chance is extremely rewarding, and all pets are fully assessed before being put up for rehoming so you can be sure that you will be matched to the right dog for you.
Puppies and dogs will also be:
Fully vet-checked
Vaccinated
Microchipped and - often - neutered so you needn¿t worry about the costs of all of these extras.
They may have also had some basic training already in kennels and you will receive ongoing support and advice if needed. Our centres also offer six weeks of free pet insurance.
Find your perfect match today
To offer a rescue dog a new home visit Find a Pet today.