We're braced for summer surge in abandonments
We're bracing ourselves for a surge in abandoned animals and fear the fallout from the Covid crisis could see more owners struggling to keep their pets.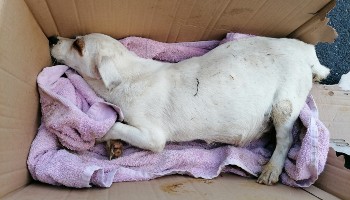 Typically, we see abandonment peak in the summer months. Between June and August 2019, 16,519 animals were reported abandoned to us which accounts for 30% of all animals reported abandoned that year.
During the summer months we had nearly 180 calls a day about dumped animals - 5,600 about cats and 6,400 about dogs.
We're braced for an even bigger impact this summer following the easing of lockdown and the financial impact on the coronavirus pandemic, and have launched an emergency appeal to continue our vital rescue work, including rescuing animals like tragic Penny who was abandoned last weekend while heavily pregnant.
During the three months since lockdown began, we've received reports about 3,492 abandoned animals - about 40 calls a day - including 1,509 dogs, 1,165 cats, 299 small furries such as hamsters, guinea pigs and ferrets and 275 exotic pets.
Dermot Murphy, head of our animal rescue teams, said:
During lockdown we've seen pets become a source of comfort and support for people and it appears many people have taken on new animals. Fortunately during this time we've dealt with fewer abandoned pets however we are worried that as lockdown eases, people return to work, go on holidays or struggle financially we will be facing a massive surge of animal abandonments.
Sadly summer tends to bring with it a surge in abandoned animals. We don't know why but it may be a combination of the warmer weather making people feel less guilty about dumping a pet to fend for themselves and people doing away on holiday abandoning pets instead of arranging care for them.
Our rescue teams have been classified as essential key workers
Our rescue teams have been working throughout lockdown after being classified as essential key workers. The numbers of animals being cared for by us has risen by more than 1,500 to 5,600 during the pandemic
This includes Penny, a heavily pregnant Jack Russell who was abandoned in a box on 26 June this year in a field behind Bagshot Road in Chobham, Surrey. A dog walker discovered poor Penny after his dog was frantically sniffing under a bush and she was rushed to nearby RSPCA Millbrook Animal Centre.
Millbrook's deputy manager, Liz Wood said:
We were very worried for Penny when we saw her condition, she looked gravely ill and was hardly responding to us. We rushed her to a veterinary surgery where they discovered she was covered in fleas and maggots, was dehydrated and had critically low blood glucose levels.
The vet team put her straight on a drip to get vital fluids into her little body. A scan showed Penny was carrying six puppies. Just a day after she was rescued, she gave birth, but very sadly none of the puppies survived.
Had she been taken care of properly all of her puppies may well have survived. Thank goodness Penny was found when she was, otherwise she too may not have pulled through.
Penny will be cared for by us until she's ready to be found a loving new home.
Dermot continued:
This is the toughest year yet for the RSPCA despite the huge challenges, our amazing teams have been continuing to rescue animals throughout this crisis.
I'd urge anyone struggling with their pet to ask for help. Animals have been there to help us through the crisis, please don't abandon them now.
Puppies left in a bucket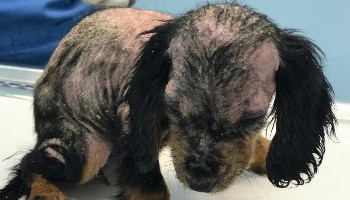 Four spaniel puppies we rescued after being left in a bucket in a garden in Redhill in July last year have all found new homes. The six-week-old pups were suffering with severe mange and dehydration - two had painful, ulcerated eyes, and needed extensive vet treatment.
Reggie was adopted by the Cook family from Ascot. Anne Cook said:
Reggie is such a clever and active boy and he loves other dogs. In fact he loves everyone. He has bags of personality and jumps like a gazelle so we think he's half horse half lamb. Reg loves sticks and bringing them into the house to destroy them - he's also a cheeky teddy thief who always wants to play. During lockdown he has been a fantastic assistant while I'm teaching and has kept us all active and entertained. He is a wonderful dog and we are very lucky to have him as part of our family.
El found her forever home with adopter Rosie Holohan, who said:
I'm hugely grateful to the team at RSPCA Millbrook for all the training and handling that El received as a puppy, her recall in particular is amazing which is great when out on park walks and at the beach! Now she's learned how to give a paw and can do a spin as well. She's a super little dog and we just love her.
What people can do if they're struggling to care for their pets:
Ask friends and family for help
Contact your vet about payment plans, discounts or vouchers for neutering or any other treatment needed
Get in touch with local rehoming charities for advice
To help us continue to rescue animals that have been abandoned this summer, please visit our donation page.
---