Stop Live Exports International Awareness Day
This year on Stop Live Exports International Awareness Day, we're raising awareness of the horrific suffering live transport causes to farm animals.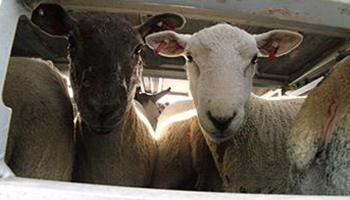 The shipment of live animals for slaughter and 'further fattening' overseas continues to be legal in the United Kingdom. Every year, thousands of animals are still being shipped from our shores, forced to endure long-distance journeys.
Conditions during transport can be cramped, expose the animals to excessively hot or cold temperatures, or prevent them from receiving adequate access to food and water. The suffering that these animals may have to face is unbelievable. As a country of animal lovers, we can't allow this to continue to happen.
We've been campaigning against live export for over 20 years
We're marking Stop Live Exports International Awareness Day by reflecting on the past, present and future of our campaign to end this cruel trade.
We've been campaigning for an end to the live export trade for over 20 years now, alongside many other prominent animal welfare charities across Europe.
Public support for an end to live exports has been incredible, and some real changes have been seen over the past two decades. Live exports have declined from around 750,000 twenty years ago to around 40,000 in 2016.
But more needs to be done and Brexit gives us the opportunity to make our rules and stop the long-distance trade in animals.
Perspective from the port
There's now only one provider shipping live exports from one port in the UK now to the continent, which is a testament to many years of public outcry for an end to this cruel trade. However, this still means that thousands of animals each year continue to be loaded onto ships leaving from our shores.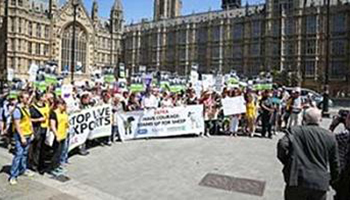 We're in a unique position. Whilst the live export trade is legal and we cannot stop it we can ensure the standards and rules are enforced properly. Only our inspectors are allowed in the port and they have seen first hand the horrific conditions that can result from transporting large numbers of animals over long distances.
Only last week we inspected a consignment of Scottish calves and sheep destined for export. We raised concerns about the journey times and conditions they were being transported in.
Even when conditions on the trucks are kept to a legally acceptable standard, the loaded animals can have a gruelling journey ahead of them. Calves can travel to Spain and sheep to France once they leave our shores.
Looking forward
The UK Government are now studying an independent review of this trade ready to set our own standards and journey times once we leave the EU. We gave evidence to this review and believe it will show that excessive journey times are bad for animal welfare and need to be reduced from the present 19-24 hours down to only eight hours. This would effectively end any live exports of animals. It would take back control.
Watch this space
Join us as we work to persuade the UK Government to improve our live transport rules. To stay up to date on our campaign to end live export, and all of our other animal welfare campaigns, sign up to receive our regular campaign newsletter.
Read more about the current campaigns we're running and how you can take part.
---