Spook-tacular pets hope to find their own hallowed homes this Howl-oween
Trick or treat! Howl-oween is here and a pack of fang-tastic pets are hoping to bewitch new owners and bag themselves a sweet home on Fright Night.
Could you give pony Pumpkin, Shadow the dog or Frank and Stein the cats a new home this Howl-oween?
Shadow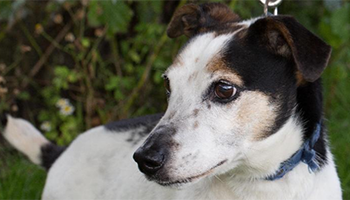 While there may be some spooks lurking in the shadows this All Hallows Eve, here's one Shadow no one need fear. This sweet 13-year-old jack russell terrier is a senior pooch but he's full of life. He loves dinner time and treats, and enjoys curling up for a cuddle or a stroke.
Shadow is looking for a home with no other dogs or cats, but could live with older children. He'd benefit from some further training but is happy being left home alone for short periods. For more information about Shadow, you can visit his online profile or contact our Northumberland West branch on 07519 876789.
Frank and Stein
Frank 'n' Stein are a fang-tastic pair looking for a loving new home. The three-year-old moggies arrived together and are both very laid-back. They're gentle cats who enjoy playing and love spending time with people.
These purr-fect pussies could be rehomed together, or separately, and both would be happy living with another feline friend. They could also live with a dog and in a home with young children. To find out more about Frank and Stein visit their profiles or contact our Bury Oldham and District Animal Centre on 0161 624 4725.
Pumpkin
Boo-tiful two-year-old Pumpkin is looking for a home to light up his life this Halloween. The 13.1hh cob loves to be the centre of attention and likes to be around people - he's always the first to greet you in the field. He's a playful pony who enjoys running with the other horses but leads away sensibly.
Pumpkin enjoys being around other horses and so would like a home where he'll be turned out with others. To find out more about Pumpkin visit his online profile or contact our equine rehoming coordinator by emailing horsesandponies@rspca.org.uk or calling 0300 1238877.
Jack-o-Lantern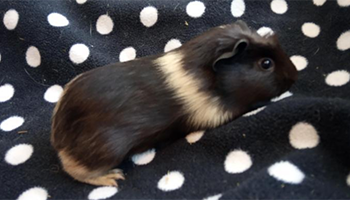 Four-week-old Jack-o-Lantern is a male guinea pig who was rescued by our team along with lots of other animals. He's a sweet-natured piggy who is slowly getting used to being handled and is growing in confidence.
This little guinea pig would like to find an indoor home with an adult male piggy as a companion. He'll be available from 10 November - to find out more about Jack-o-Lantern visit his online profile or contact our Walsall branch on 0845 2723570.
Uncle Fester and Morticia
Eighteen-month-old Uncle Fester and eight-month-old Morticia were both rescued by our officers from a multi-cat household.
Uncle Fester can be shy but is braver than his Addams family relative. Staff hope he will flourish in a new home if given the time and space he needs to find his paws. He'd like to live with another cat in an adult-only home. Morticia is a shy, nervous cat who needs a loving, stable home where she can learn to trust. She needs new owners who can give her time to settle. She'd like a feline friend and would be best in an adult home.
Find out more about Uncle Fester and Morticia online or contact our Middlesex North West and South Hertfordshire branch on 020 89669688.
Boo
Boo! This spook-tacular hamster is batty about climbing and loves finding new ways to get around her cage. She's also partial to a tasty treat (especially a hamster chocolate drop!). Boo was rescued along with four other hamsters as part of a welfare concern.
Boo is a youngster and so would like a new home where she'll be slowly introduced to more and more socialisation. She could live with sensible, older children and would like a big cage to explore! To find out more about hammy Boo, you can visit her online profile or contact our Newport Animal Centre on 0300 123 0744.
You can meet more of the animals in our care right now at Find a Pet.
---