Seven things your kids can learn in lockdown
While parents across England and Wales continue to homeschool their children, we hope to provide a helping paw with our free educational resources.
These are very strange times and for the majority of parents, it'll be the first time they've attempted to teach their kids from home. Lots of us here at the RSPCA have been getting our heads stuck in workbooks and tuning in to do PE with Joe Wicks every morning. The reality of homeschooling is daunting - especially when you're juggling it with working from home - but we hope our fun and interactive resources will make it a little easier for you.
Here are seven examples of amazing animal knowledge the kids can learn from all the resources on our website:
1. The five animal welfare needs
Compassionate Class is a scheme set up for KS1 and KS2 pupils which ties in with the national curriculum. The starter activity helps children identify the five animal welfare needs which must be met by law and helps to highlight that an animal¿s basic needs are not so different from our own.
2. Animal habitats and the environment
The Compassionate Class resources which have now been made available for homeschooling parents also has a number of discovery activities including one which teaches children about different wild animals and their habitats. Here children can discover how to protect their habitats and learn about the impact humans may be having on the homes of animals and how we can all do our bit to help.
3. Making animals out of egg boxes and animal-themed masks
As part of our #30daysforanimals challenge, we ask parents to challenge their kids to do an animal-related activity each day. There are some great craft activities on the website to help children achieve their challenge from making animals out of egg boxes or other household items to creating animal-themed masks so children can become their favourite creature for a day!
4. How to become a top pet photographer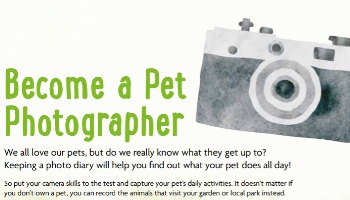 Every year we run our Young Photographer's Award which recognises amazing young photographers and their incredible snaps of their pets, wildlife and nature. There are plenty of tips on how to take the best picture provided by top photographers themselves and we'd love kids to enter their lockdown pictures to the YPA, which is open for entries now.
5. Real-life animal heroes throughout history
Another one of the discovery activities which form part of the RSPCA's Compassionate Class resources is all about animal heroes, from guide dogs to dogs being sent into space, it encourages children to identify the amazing skills these animals have, and also encourages ethical debate. There is also a video lesson on animal heroes on our YouTube channel along with lots of other topics.
6. Adding and subtracting using animal legs!
The #30daysforanimals challenge shows parents how to create a maths worksheet based around animals, for example, the addition and subtraction of legs (two spiders and four elephants equals 32 legs!) This is a fun maths exercise for kids of all ages to enjoy.
7. Animal sentience and how to be a compassionate individual
All our resources teach children that animals can feel pain and suffering, they are sentient beings - that can feel happiness and fear - and we should respect and have compassion for animals. We hope that through our education work we can create an even kinder society in the future and help prevent animal cruelty.
After all, the P in RSPCA is for Prevention!
For more information visit our education site.
Go to our YouTube channel to see all our lockdown lesson videos.
---