Saving animals in a crisis then and now
As the nation comes together to celebrate 75 years since VE Day marked the end of hostilities in Europe during World War II, we're remembering our brave officers and animals who played a vital part in the conflict.
From search and rescue dogs digging injured civilians from the rubble of their destroyed homes, carrier pigeons transporting urgent messages to protect troops from attack, and heroic inspectors who risked their lives searching for missing pets or injured animals in abandoned homes, World War II saw enormous bravery, dedication and sacrifice for both humans and animals.
Victory in Europe Day, generally known as VE Day, is a day celebrating the Allies' formal acceptance of Nazi Germany's unconditional surrender of its armed forces on 8 May 1945.
During the six-year war, we rescued and treated over 256,000 animal victims of enemy action, in addition to helping more than one million animals suffering from general injury and sickness.
Some of the heroes from WWII
To celebrate VE Day, here are some of our favourite, and most poignant stories.
Heroic inspectors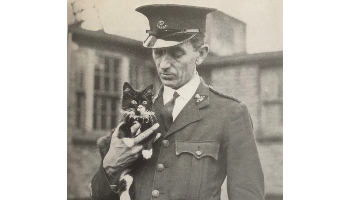 Inspectors were well known locally, and many were contacted by injured people from hospital, desperately asking them to search the ruins of their bombed homes to find their beloved pets - including cats, dogs, tortoises, rabbits and more. Many animals were successfully recovered by these brave inspectors.
One particular inspector crossed danger cordons into a row of homes evacuated due to a number of dropped time bombs, in search of missing pets. He recovered three cats, two dogs and a cage of budgies to safety.
A number of our male and female ambulance drivers risked their lives during the war collecting injured animals from across towns and cities. A huge number of special awards were given out to inspectors to recognise their work.
On Christmas Eve in 1940, an inspector in Southsea recovered hens, rabbits, a canary, a jackdaw and several terrified cats from a bombed home and Anderson shelter, taking them all back to his home on Christmas morning where he cared for them for several days! It's not uncommon today for our officers to take home animals they've rescued on a night shift to care for them until morning.
Many dogs were known to run away during bombings and were usually rounded up by police, who then handed them to our inspectors to be returned to their owners.
Champion animals
Peggy the dog jumped to the rescue when a high explosive bomb was dropped on a home in East Anglia. Rubble, debris and a dust-covered pram with a baby inside were found. Although Peggy could've escaped, she jumped onto the pram and began furiously digging a hole through the rubble to make a gap for the baby to breathe, saving the child's life.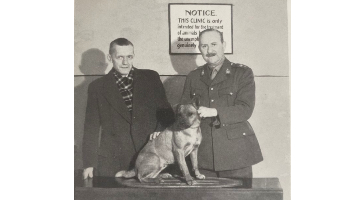 We gave a special collar to naval dog Daisy after her trawler ship was bombed and the crew were flung into the ice-cold sea. Daisy swam from crew member to crew member licking their faces through the night, keeping them awake and positive, until all were rescued and brought to Newcastle. Daisy went on to have two puppies and lived out her days at a seaman's hostel in the city.
Dogs were used to guard airfields, ammunition supplies and much more. They were also trained to detect mines, even those encased in wood, plastic or glass. These dogs received special collars 'for valour' from us. A German shepherd named Brian was a patrol dog of the 13th Battalion Airborne Division. He landed in Normandy with his division and was officially named a paratrooper.
Crucial work of our branches and hospitals
The imminence of danger prompted us to open a series of animal rescue centres - by 1944, we had established 734 animal rescue centres to deal with the casualties, strays and the sick, staffed mostly by volunteers.
Our volunteers were just as vital to us as they are today! Much of the animal care in our clinics was carried out by volunteers.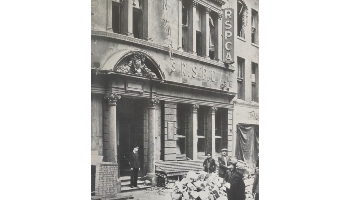 The then RSPCA headquarters in London and our ten clinics across the country were damaged by bombs.
Our Birmingham branch was responsible for quarantining the last dog rescued from Dunkirk. Many dogs were smuggled over by troops who had become so attached to them, and most were quarantined before being found new homes.
We gave £100 for the production of special biscuits to be sent to Malta in 1943, as part of special relief efforts for the suffering cats and dogs there. The biscuits were stamped with a 'V' for victory!
A special message from 'the Forces' Sweetheart'
This VE Day, Dame Vera Lynn, known during World War II as 'the Forces' Sweetheart', also sent us a special message paying tribute to the animals who played their part in the conflict and our work, saying:
We must never forget the huge part played by the animals during the War - they are really stars; from horses to pigeons and of course, dogs, who did the most wonderful work in all sorts of ways - carrying messages and finding other animals and of course, people, who perhaps were trapped in bomb sites.
Of course, the sniffer dogs are still doing great work in the present time. We are lucky to be a nation of animal lovers, and although there are some people who are not kind to them, there is also a huge amount who are. My kind wishes to the RSPCA and to all who are looking after those unfortunate little creatures who need our care.
Celebrating our frontline staff and animals
So, seventy-five years on, as we remember the millions of people who bravely fought and died, we'll also spare a thought for those courageous officers who risked their lives to help people and animals alike and the animal champions whose actions did so much to help during the war effort. Our animal rescue teams today are facing a very different crisis, but we are proud that our dedicated officers are still out on the frontline doing all they can to help animals in need at a time of national emergency.
---