null
We've received 40 abandonment reports a day during coronavirus lockdown
We've received 40 abandonment reports a day during coronavirus lockdown
We've received more than 1,600 reports of abandoned animals across England & Wales since lockdown began - that's 40 a day!
We've released the figures as part of our our emergency appeal, launched to keep our rescue teams out on the road during the Coronavirus crisis and continuing to rescue animals most in need.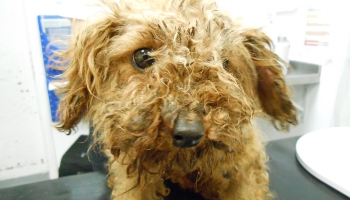 Since the country went into lockdown on 23 March, we've had 1,663 incidents of abandonments reported to our cruelty hotline - an average of 40 incidents a day. In that time, our rescuers have dealt with 27,507 incidents of animal cruelty, neglect and suffering animals which need help. We've also received more than 92,800 calls from members of the public and staff are caring for more than 4,300 animals in our care.
A change for us and our pets
One of our spokespersons said:
Although much of the country is on lockdown, sadly there are still thousands of animals who need our help, including abandoned pets.
Many people are finding their pets are a real source of comfort in these anxious times and thankfully cases of abandonment are slightly lower than usual but it's heartbreaking that some beautiful pets like Red are being dumped during this crisis.
In most cases we don't know why pets are abandoned but it's really important to remind people that there is no evidence to suggest that Covid-19 can be passed from pets to people.
There is lots of help and support out there for anyone else struggling to get animal food, with health or behavioural issues, exercising their pets or managing to keep children safe around pets. Please don't be afraid to ask for help.
Since the Government introduced the lockdown measures, we've responded to more than 27,000 incidents, with 1,600 incidents of abandoned animals reported. The number of animals being cared for at our centres, hospitals and vet surgeries has also grown by hundreds.
Some of the abandonments we've dealt with this lockdown
Toy poodle Red
Two-year-old toy poodle Red was found in a garden in Ilford, East London, on 5 April after being thrown over a 7 foot fence. She was underweight, her coat was matted, her eye was infected and she was covered in sores. We took her in and have now placed her with a fosterer while they investigate.
Collapsed giant rabbit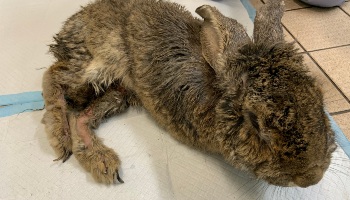 A giant rabbit was found collapsed unable to use his back legs after being dumped in a cardboard box in Liverpool on 24 April. He had overgrown nails and was suffering from flystrike. Sadly, vets felt the only option was to put him to sleep.
Lurcher dog Harvey
Lurcher Harvey was abandoned when his owners were evicted from their home in King's Lynn, Norfolk. He was left in a messy, concrete garden and, when the property's landlord had to self-isolate, had no one to feed him. We were called into to help the terrified dog and our officers suspected had been living alone for months. He's now being cared for by one of our local branches.
Two female cats
Two female cats were found abandoned in a cat carrier next to a canal in Rochdale, Greater Manchester on 3 April. A member of the public found them while out on their daily exercise. They're both very nervous but are now being taken care of by our staff at Rochdale.
Eight-week old kittens
Two eight-week-old kittens were found dumped in a box in Birmingham on 15 April and were collected by our animal collection officer Cara Gibbon and taken into care.
Abandoned rats
Thirteen rats were found abandoned in a broken box in a field in Walton on Thames, Surrey, on 30 April. One had a nasty tumour and sadly had to be put to sleep but the rest are now being cared for by staff at our Millbrook Animal Centre.
For more information about looking after your pets during coronavirus and the lockdown see our coronavirus hub page.