Our officers play their part helping animals and owners in coronavirus pandemic
Our inspectors have been playing their part during the Coronavirus pandemic from taking animals for urgent vet care and ensuring pets of sick owners get the care they need.
Our key workers are still out rescuing animals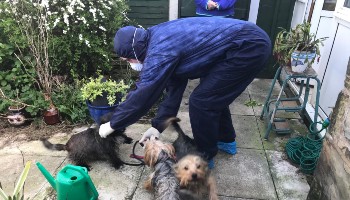 We're continuing to care for animals who need them the most and helping pet owners during these difficult times. Our officers are now responding to emergencies only but they're also helping their local communities where they can in delivering pet food and medicines, taking animals for emergency vet treatment and transporting pets for care if their owner has gone into hospital or sadly died.
Dermot Murphy, our chief inspectorate officer, said:
These are unprecedented times but we want to make sure that animal welfare is maintained so our officers remain on the frontline helping animals and pet owners who need us the most. As well as dealing with emergencies, many of our officers are going the extra mile and helping pets and their owners affected by Covid-19. For those who need to self isolate, taking their pet to the vet for urgent treatment has become impossible and for those who have been taken into hospital with the virus, there is a huge strain on local authorities to take the animals which is why we are helping with transportation. We are still receiving many calls and the emergency calls must come first but our officers are helping those affected by the virus where they can.
Rescuing pets in a different way
Pet owner had to be taken to hospital
We were contacted for help after a pet owner in West Lancashire was taken to hospital last week with Coronavirus and neighbours had informed them that there were pets in the house.
No-one was allowed to enter the house for 72 hours because of the risk of contamination from the Coronavirus.
But on Monday, dressed in full PPE clothing, our inspector Paul Heaton and animal welfare officer (AWO) Dave Hatton were able to attend the scene and using a key from a neighbour to gain entry to the house, the pets were rescued.
Paul said:
We had the full PPE clothing on with face masks and shoe covers and we were able to carry out the safe rescue of these pets.
I went in the house to rescue the pets and put them in my van to transfer to a kennel while Dave followed me in his van.
As he'd not come into contact with the house he took the pets inside the kennels while I disinfected the van. All the procedures were in place to get these pets the help they needed.
Two Yorkshire Terriers, a Cairn Terrier-cross and a budgie were taken from the property and were all in good health. They're now in our care and will remain with us until the owner recovers from his illness.
A dog required life-saving treatment during a 14-day isolated home
Animal collection officer Steve Wickham stepped in to help an owner and their dog Misty in Manchester after a womb infection left her close to death. Misty was extremely weak and bleeding from her back end when a call came through to us for help. Unfortunately, the family were in the middle of a 14-day isolation period and were unable to take the dog to the vet.
Steve said:
Poor Misty had a womb infection which had filled with pus and if it popped, it would have sadly killed her so she needed urgent treatment.
The owner tied Misty to a fence in the garden for me to collect her and take her to the vet where she underwent surgery to remove her womb.
Spaying animals is incredibly important to stop infections like this occurring. Thankfully, the surgery was successful and I was able to reunite Misty with her owner on Tuesday after spending a few days recovering at the vets.
Social distancing rescue
Inspector Amy Marjoram transported a cat to the vets in Suffolk after Mr Tubbs came home with a limp tail and a suspected fracture. The poor cat was in a lot of pain but unfortunately, the owner was unable to take the cat to the vets so he was left on the front doorstep in a cat carrier and animal rescuer Amy collected him and took him to the vets.
Amy said:
I took him to the out of hours vets who thankfully confirmed that there was no fracture or broken bones but Mr Tubbs was given anti-inflammatory and pain relief medications to go home with. I collected him again and left his cat carrier on the front step for the owner. We have to apply social distancing to all of our work and wear the appropriate protections but I'm so glad we were still able to help this owner and the cat clearly needed to be seen by a vet straight away.
Self-isolation nearly left a dog homeless
Animal welfare officer Marie Stevens went the extra mile to find a shih tzu called Charlie a space at our Brighton animal centre. Sadly, Harry's owner had recently passed away and the next of kin was unable to take the dog in due to self-isolating against Covid-19. We're now caring for Harry until lockdown ends.
Dermot added:
These are just a few examples of how our officers are helping not just animals, but people, during the Coronavirus pandemic. We couldn't do any of this without the continued support of the general public through these tough times.
We're still working non-stop for animals
Since the crisis deepened at the beginning of March, our animal cruelty line has received more than 60,000 calls and our officers, animal care staff and vets continue to rescue and care for animals in need.
To help us keep rescuing animals like these and keep our animal hospitals and centres running for emergency treatment and round the clock care through these unprecedented times, please donate whatever you can spare.
---