Our charity shops in England are set to re-open
We closed all of our 318 charity shops at the start of lockdown but we're now pleased to be undergoing a phased re-opening in England, following the social distancing guidelines set out by the Government.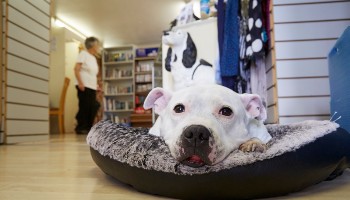 Jenny Eden, our retail specialist, said:
"As branches are separately registered charities, their charity shops are a vital source of income to ensure that we can continue to care for animals in need in the local area, so we are thrilled to be able to open our doors to customers again and accept much-needed donations.
"We want to reassure our supporters that we'll ensure the experience of shopping in our charity shops will be as safe and comfortable as possible.
"We're taking measures to protect our staff and our customers including the use of plastic screens, providing hand sanitiser, storing donations for 72 hours before they're sorted, wiping down hard goods and steaming clothing items before they go onto the shop floor, as well as regular cleaning, and putting social distancing rules in place.
"This way we can keep everyone in our shops safe whilst also continuing to help the animals who need us!"
Visiting or donating to our charity shops
Our branches are separately registered charities and their shops are a vital source of funding to help the more than 48,000 cats, dogs, rabbits and equines in our care.
Many of our charity shops will change their opening hours to allow for cleaning, so customers are advised to contact their local shop for details.
For those looking to donate items, we're welcoming donations of:
clothes
bric a brac
handbags
jewellery
toys
books
DVDs
We have many ways you can donate to help animals.
---