We're calling on animal lovers to take on the 2.6 challenge to help animals in need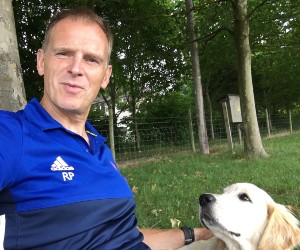 The week-long challenge kicks off on Sunday, 26 April, when the London Marathon would have held its 40th annual event and asks participants to do a challenge around the number 2.6 or 26.
Every year the London Marathon raises over £25,000 for us and is a vital source of income for many charities. To help raise money in these challenging times we're asking kind supporters to take on a 2.6 challenge, maybe something animal themed, to help the thousands of animals in our care and being rescued every day.
Do your own 2.6 challenge
Ideas to do your own 2.6 challenge include:
A 2.6k run in an animal onesie
As many bunny hops as possible in 26 seconds
26 ball catches with your dog
26 or 2.6 stair climbs with your pet
A 2.6k dog walk
Running 26 times round your garden dressed as an animal
We're continuing to care for thousands of animals during the Coronavirus pandemic and our frontline staff, which have been designated key workers, are continuing to rescue many more.
Richard from Dorset has already set his own challenge
One animal lover who has risen to the 2.6 challenge is Richard Purchase from Dorset, who will be running the equivalent of a marathon, a whopping 26.2 miles, on a treadmill in his garage.
The 56-year-old has never completed a marathon before so this will be a huge challenge.
He said:
I'm reasonably fit but I've never run a marathon before so we will see how this goes! I donate on a regular basis to the RSPCA as I've always been an animal lover. It struck a chord with me after seeing the posts on the RSPCA Facebook about how much the charity is struggling at the moment. We have the treadmill in the garage so it all came together!
Richard hopes to be supported by his golden retriever Reggie as well as friends and family on a video conference call who will be tuning in to cheer him on and make sure he's carrying out the challenge.
How Richard is feeling before his challenge
Richard, a school governor in Harmans Cross, added:
I've never run a marathon before but during these unprecedented and very difficult times, I'm really worried about how so many wonderful charities are actually struggling so badly, given how many fundraising events have been cancelled. And also the incredible, and deserved, focus on our amazing NHS. I am choosing the RSPCA since animals and welfare have always been so close to my heart. The RSPCA are really struggling at the moment. Income is massively down but they are still out every day rescuing and caring for animals so I'm going to give it my very best shot.
How the coronavirus situation has affected us
We're facing a huge financial strain as we've already seen the damaging effect of this crisis on our fundraising income, while the costs of saving, treating and caring for animals continue.
We currently have more than 4,000 animals in our care (4,112 as of Friday 17 April). We've taken in more than 600 animals since the lockdown came into effect on Monday, 23 March and expect to take in many more over the coming weeks.
To support Richard's marathon challenge visit his Just Giving page.
Or why not take on a challenge yourself to help us?
What you need to do to start your challenge
Pick a challenge (make sure it's something you can do safely, while observing social distancing)
Go to our 2.6 challenge Just Giving page and set up a fundraising page
Tell your friends and family about it, maybe challenge them to do their own
Post about it on social media to spread the word even further
Then get ready to join thousands of others to do your challenge, starting Sunday, 26 April!
To help us keep rescuing animals like these and keep our animal hospitals and centres running for emergency treatment and round the clock care through these unprecedented times, please donate what you can online.
Need some training inspiration?
One of our Animal Collection Officers has also joined the fun with her dog, Roger, who's taken on the challenge of 26 headers in one go!
---