RSPCA Birmingham unveils graffiti project which celebrates 200 years of history
The RSPCA has unveiled a graffiti project which celebrates nearly 200 years of history at the animal welfare charity.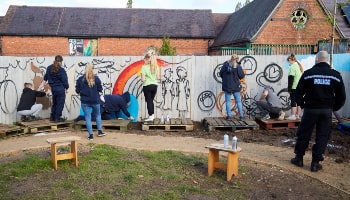 From the the formation of the society by Rev Arthur Broome to the first two female inspectors, the 'art-ives' project has taken some of the most inspiring moments from the archives of the RSPCA's history and turned it into stunning graffiti art across the fences at RSPCA Newbrook Farmhouse Education Centre in Birmingham.
The young people who have taken part in the Heritage Lottery Fund project began their journey with the RSPCA through a six-week wellbeing programme delivered in partnership with Forward Thinking Birmingham. They were then invited back and have been volunteering with the animal welfare charity and spearheading the graffiti project. They have even named themselves the Band of Mercy after the first-ever RSPCA youth group which formed in 1875.
Robert Moffat, the RSPCA's Birmingham Youth Engagement Officer, said:
We're so proud of our rich history as a charity and so it has been really incredible to see that history brought to life for all to see at the education centre. It's been a learning experience for me to find out more about the RSPCA's long history and the RSPCA's important role in the community of Birmingham too.
The young people who have taken part have been absolutely amazing and dedicated to this project. We've really seen a transformation in them from when they first arrived to now, some of them have started further education, or started their own businesses which is incredible to see.
Mollie Swadkins, 19, who has been taking part in the project, said:
It's made my confidence a lot better just being around other people. I'm not really into art but it surprised me that I do have that creative side to me.
One of the highlights for me was meeting the inspectors and animal carers. That's something I want to go into in the future so it was great to see what advice they could give to me.
Mollie started on the Paws 4 Change programme, a dog training and care course for young people with challenges to learn about and bond with rescue dogs when she was just 15 and ever since then she has taken part in projects and volunteering at RSPCA Birmingham.
Harry Southan, 24, also took part in the well-being project before going on to become a mentor for the next group of young people, including Mollie. He is now a community engagement volunteer for the RSPCA which combines his love of helping people and animals.
Harry, who has recently started a Masters degree in Visual Communications, said:
It's good because it gets you into a different environment. I'm a much better person in general from going through this, from start to finish. I think I'm a more developed, respectable person. It's taught me skills that I wouldn't have learnt otherwise.
Mollie and Harry praised Rob and the rest of the Youth Engagement Team at RSPCA Birmingham.
Harry added:
Rob is so good at leading the project and part of what brings me back is Rob and the other team members. They just make you feel so comfortable. If I hadn't done this, I wouldn't have had the confidence to go back to university and do a masters. I'm so driven and focused now and that's down to the RSPCA as well. It's also helped me become a better pet owner and my dog now has a better life because of this.
As well as depicting moments in history such as the forming of the charity and the work the RSPCA did to improve animal welfare on the rail links in Birmingham in 1843, the artwork also features the charity's five core values of commitment, integrity, inspirational, expert and compassionate.
Everyone got involved with the painting from veterinary staff at the animal hospital, the animal care team, the young people and youth engagement team and West Midlands Police with the help of freelancer artist Matt Johnson from Fuzzy Concepts.
The final project was unveiled on 20 November and there will be a special exhibition for the public in December. There is also a panel dedicated to the new butterfly trail at the centre which features art about pollinators and wildlife.
As well as this, there are plans to make the exhibition more inclusive with braille and a QR code which will lead to a video where the young people will tell their story.