A pig named after famous actor Nicolas Cage is looking for a home
Pigolas Cage searches for new forever farm or smallholding

The RSPCA has launched a special appeal to find a home for a black pot-bellied pig, called Pigolas Cage, who has been looking for a home for almost a year.
He is currently in a private boarding establishment in Suffolk whilst he waits to find his forever home.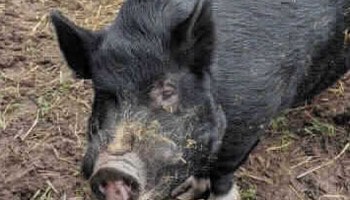 Sadly, he came into the charity's care as his previous owner was unable to keep him due to a change in circumstances. He was rescued by the RSPCA's inspectors but as all the charity's animal centres with farm animal facilities were full - Pigolas Cage is in a private boarding establishment which comes at a cost to the charity.
The RSPCA estimates it is spending an eye-watering £26,000 a week to private boarders for the temporary care of hundreds of rescued animals - including dogs, cats, rabbits, small furry animals, exotic pets, birds and farm animals - as its 59 rehoming centres are "full to bursting".
Michelle Sidney, animal logistics manager at the RSPCA, said:
We'd love to find this friendly pig a home as soon as we can. Unfortunately, he's been waiting for nearly a whole year to find his forever home so we're really keen to see him get the second chance he deserves soon.
Pigolas is sure to become a (National) Treasure for whoever adopts him. He is looking for a farm or smallholding where he will have plenty of space and enrichment.
Michelle added:
Generally, pigs are social animals and should be provided with appropriate opportunities for beneficial contact with their own kind. However, Pigolas hasn't had much chance to interact with other pigs so it's unknown whether or not he could live with others, but the farm in Suffolk where he's being fostered has a dog and Pigolas has no problem being around dogs.
Our centre in Hertfordshire which rehomes farm animals is assisting with the rehoming process so we would urge anyone who is looking to bring a pig like Pigolas into their lives to please contact RSPCA Southridge.
Pigolas Cage is a friendly one-year-old pig and although he's unlikely to (Vampire) Kiss your Face-Off, it's no Con (Air) that this pig will make a brilliant pet.

RSPCA Southridge is also assisting with the rehoming of two other pigs, Pru and Patsy, who are both in a private boarding establishment in Kent. The two-year-old pigs are both friendly and polite and will follow a bucket of food. Pru can be more forward than her sister Patsy who is a little nervous and tends to follow her sister's lead so will need to be rehomed together.

They are both friendly and appear pleased to see you but can become nervous and panicked by big changes. They are a similar size to Kune Kune pigs and will need a large enclosure with plenty of enrichment.
To see all the farm animals for rehoming visit here.