We're appealing for information after a python was abandoned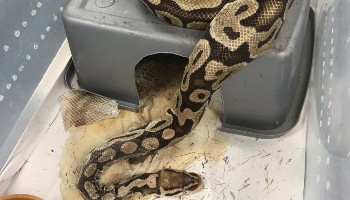 We're appealing for information after a poorly python was found abandoned in a plastic box in Brixton.
The python was discovered by a member of the public outside Harper House on the Loughborough estate on Sunday (15 March) at about 1.30am.
The reptile was found by the bins inside a plastic container and was so cold there were fears that the snake was already dead.
The snake was found cold and motionless
The member of the public who found the snake contacted us and our inspector Philip Norman collected the snake and took him immediately to the vets.
He said:
This poor snake had been abandoned and was extremely cold and motionless. I took the reptile to Putney Animal Hospital where he was gently warmed up and thankfully revived. He is doing well now and being treated for mites and a swollen tongue and getting some much-needed TLC after his ordeal.
Sadly, we are often called to rescue abandoned reptiles. Unfortunately, many people are unaware of how much of a commitment these animals are when they take them on, which means they can be given up once the novelty wears off.
Snakes need warm temperatures
Snakes aren't able to produce their own body heat so they rely on their environment to maintain their body temperature. If snakes become too cold they may not be able to feed or move normally, and their immune system will not work properly to fight disease, meaning the animal can become very ill.
Many people do not realise what they are taking on when they buy these pets so we are urging prospective buyers to do their research before getting one. Potential owners of reptiles must thoroughly research the needs of the particular species and what is required in the care of the animal, using expert sources, and only consider keeping one if they can ensure they are fully able to provide for these needs.
To help us continuing rescuing, rehabilitating and rehoming animals in desperate need of care please donate today.

---