null
Free health checks throughout June for Rabbit Awareness Week
Free health checks throughout June for Rabbit Awareness Week
Rabbit Awareness Week (RAW) is a collaboration between Burgess Pet Care, several charities and industry partners - ourselves included!
Rabbit Awareness Week is taking place between 1-9 June and this year's theme is to raise awareness about the threat of Rabbit Viral Haemorrhagic Disease 2 (known as RVHD2) and the importance of vaccinations.
Many UK rabbits are still not vaccinated against the deadly disease RVHD2 and are therefore at risk of suffering today. This year we are asking all rabbit owners in the UK to make sure that their rabbits are vaccinated against this and other fatal diseases.
Keeping your rabbit healthy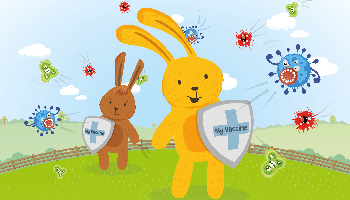 Rabbits need vaccinating against myxomatosis and RHD as well as against RHD2. To keep your rabbits happy and healthy they also need to be neutered and microchipped. As rabbits' teeth grow continuously your pets teeth should be checked weekly for any abnormalities.
At this time of the year, rabbits are also more at risk of flystrike. Therefore we advise that owners should be checking their pets at least twice daily for any warning signs. By taking these protection and prevention methods you can be happy knowing your rabbits will be better equipped to stay healthy.
Why is it important to protect your pets against RVHD2?
Rabbit Viral Haemorrhagic Disease 2 (RVHD2) is a new strain of the virus RVHD1. Cases of the disease were first reported in the UK in 2013. As with RVHD1, the virus causes internal bleeding.
What are the signs of RVHD2?
Rabbits who have contracted RVHD2 often have no symptoms, meaning that it's very hard to spot. Where symptoms do occur, signs can be easily confused with other health conditions such as fever, lethargy, neurological signs (coma) and blood clotting problems.
How do rabbits catch RVHD2?
It's a myth that RVHD2 can only be caught through contact with an infected rabbit. In actual fact, the virus can be carried by:
Birds and insects and their droppings
The wind
Soles of shoes, car tyres or other pets' feet
An infected rabbit or their droppings
Owners' hands or clothes
These are only a few examples of the ways in which RVHD2 can be carried. Practically, there's no way to stop the virus getting into your rabbits' indoor or outdoor environment. Therefore, the only way to protect your rabbits is through vaccination.
How to prevent RVHD2
Your vet can vaccinate your rabbits against RVHD2 (this is a separate vaccination to the combined myxomatosis/RVHD1 vaccine). Your vet will then advise what booster vaccinations your rabbit will need (usually due between every 6-12 months).
Can you treat RVHD2?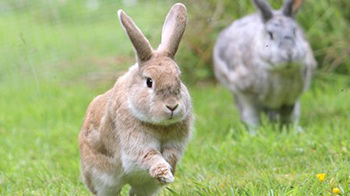 There is currently no specific treatment available for RVHD2, though your vet can offer supportive care.
There have been some cases where rabbits have recovered from RVHD2. However, in most cases the disease is fatal.
Vets are offering free health checks for rabbits
Don't miss out on your free health check! Throughout June, participating vets are offering free health checks for rabbits.
According to our chief veterinary officer, Caroline Allen:
"As well as providing vital protection against killer diseases, when you visit your vet for a vaccination your rabbit will be thoroughly examined for any other health issues. It's a great opportunity to have a 'health MOT'. Sadly, far too many rabbits are still dying from totally preventable diseases. Regular vaccinations and health checks are a vital part of keeping your rabbits healthy and safe."