Puss with purr-fect Poirot 'tache breaks two legs falling out of window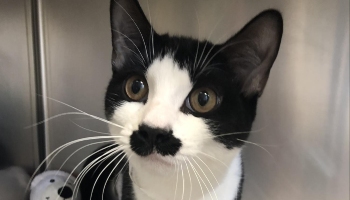 Poor puss Poirot found himself in need of a helping hand after falling out of a third-floor window and landing a little too hard on his feet.
One-year-old puss Poirot - known as Hercule to his friends - was brought into our Putney Animal Hospital, in London, earlier this month with two fractured legs. He needed surgery and will be kept on cage rest for four weeks while he recovers from his injuries.
While in our care, Poirot earned himself an army of fans and a new name - after the famous Agatha Christie character - due to his perfectly-formed 'tache.
Hospital worker Jo Elmes said:
Poirot is a lovely boy. He's really friendly and affectionate but he has really been in the wars. He broke both back legs after falling from a window and needed surgery.
He's started using his legs again now and, although he's a little wobbly, he's doing really well. We're hoping he'll soon be strong enough to go into foster care while he continues to recover.
Unfortunately, our hospitals and clinics often have to treat cats who have been injured after falling from windows and balconies - particularly in the summer months.