Puppy farmer puts profits over duty of care
A man who disregarded animal welfare to make a profit from puppies was disqualified from keeping dogs for life. The puppies were born in filthy conditions, weren't microchipped or vaccinated and were being sold without the benefit of any licence.
The man sold puppies to the public and had over 70 dogs including Bulldogs, Pugs, Labradoodles, Poodles and Golden retrievers - all were found neglected and living in filthy conditions.
We were contacted by police after they had received reports of multiple dogs running on a busy road. Once the police had contained the dogs, they saw many more within a barn looking dirty and unkempt.
Pens found to be in terrible conditions
One of our inspectors went to the property and saw the terrible conditions that the dogs were being forced to live in. They described the pens as:
filthy, cold and damp
without heating or access to water
stone floors sodden with thick layers of urine and faeces
without any ventilation so there was a nasty smell
and no bedding at all
the only thing available to the dogs were tubs of dry dog food.
The first pen contained a mum and her pups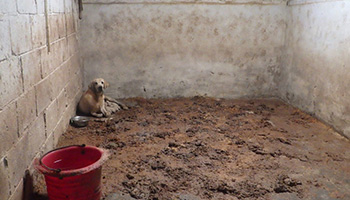 In the pen we found a yellow labrador and her 10 newborn puppies, one of them had sadly died. All were laying on a thick layer of wet faeces. The inspector also found a small pen with a white and brown terrier puppy, who was shaking and clearly terrified.
In a similarly kept pen were eight dogs (poodle and retriever breeds) looking filthy with their coats matted. A police officer provided water for the dogs via a hosepipe, who all fought to drink first and huddled around the bucket. Our inspector said it was heartbreaking to watch. Some dogs were so thirsty they were drinking for over a minute non-stop!
More dogs were contained within a conservatory, the floor was wet with urine and no bedding could be seen. Several dogs were barking whilst others looked withdrawn. A Bulldog was seen housed in a metal wire cage with exposed rods pointing in various directions (which could easily hurt the dog). A second cage contained several small breed dogs - the whole setup was a mess.
There were also two dogs with their litters of puppies found in the living room.
No attempt had been made to keep the place clean
A vet who attended said he had been to the property earlier in the year on the local council's behalf. He had been there to inspect the property because an application had been made for a breeding licence. He was appalled by what he saw on the returning visit.
Opening the doors revealed some of the filthiest conditions he had ever seen dogs kept in. The floor of the out-building was covered in urine and faeces and there were a lot of flies buzzing about - it hadn't been cleaned out for weeks! No attempt had been made to increase the exercise area for the dogs or to feed them individually and hygienically - which were all license conditions discussed with the owner from the vet's previous visit.
It was clear the man had very little intention of following the license conditions, which had already been outlined. Failure to meet the requirements meant he had committed offences under the Animal Welfare Act.
Matted coats and ear infections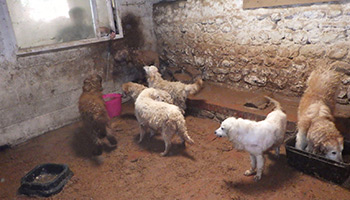 A second independent vet examined each of the animals. A golden retriever and a Newfoundland type dog were taken into possession, after the vet said they were suffering unnecessarily from severe ear infections. A poodle type dog who hadn't been adequately groomed was also found. The golden retriever gave birth to a litter of puppies shortly after arriving into our care.
Twenty of the dogs had mild to severe matting to their coats which were filthy. There were 72 dogs and puppies at the property. The labrador and her puppies were removed because their needs were not being met, which is an offence under section 9 of the Animal Welfare Act.
Warnings and advice were ignored
Our inspector issued multiple warnings and advice notices to bring about improvements in the environmental conditions. Treatments were also provided for health issues that some of the dogs had, particularly skin and eye conditions.
After the man had been interviewed, we were still receiving a number of complaints regarding sick puppies at the property. He had continued with his illegal activity and five months later was advertising online and offering puppies for sale again. This all being after he had been summoned to attend court in relation to offences detected during the inspection and before his first hearing.
A warrant was executed and once again neglected animals were removed. It was clear the man hadn't learnt from the advice he had previously been given and further offences were made.
Puppy farmer convicted
The man was convicted of five offences of causing suffering to various dogs and for failing to meet the needs of others.
In sentencing, the Chairman of the Bench, said:
Your actions were deliberate and blatant and [had] gone on for some time. There was a commercial element - puppy farming.
In addition to the lifetime disqualification, the man was sentenced to 12 weeks' imprisonment suspended for 12 months, 150 hours of unpaid work and ordered to pay £3,874.44 costs.
All of the dogs seized during the course of the two separate investigations were signed over to us so that they could be rehomed.
---