null
PETA wants staffies added to the Dangerous Dogs Act
PETA wants staffies added to the Dangerous Dogs Act
29.06.18
Sam Gaines, our dog welfare expert, went to meet with PETA to discuss their approach to Breed Specific Legislation:
The Environment, Food and Rural Affairs Committee is holding an inquiry into Breed Specific Legislation. As part of this inquiry, we have submitted written evidence and provided oral evidence strongly opposing BSL. This is also the case for many organisations. However, PETA's evidence states that they support the ban on pitbull terrier types and that they believe the law should be extended to include Staffordshire bull terriers.
PETA stands as supporters of Breed Specific Legislation
The reasoning is that they stand against all dog breeding and believe that the banning of breeding certain types of dogs is 'what's best for dogs.' PETA state pitbull type dogs are the most abused and abandoned and believe that breed specific laws help prevent more dogs coming into the world so cruelly.
I met with PETA to raise our concerns in particular the evidence suggesting that pitbull bites are more severe that those of other breeds. There is no robust evidence to underpin such claims. We are particularly worried that information like this may make these types of dogs more desirable to those who may wish to use them to scare or intimidate other people and which can often result in the poor treatment of these types of dogs.
PETA state that they care deeply about these types of dogs and were in agreement with the recommendations to protect dogs affected by this type of law and in our report Breed Speed Specific Legislation - A Dog's Dinner.
But ultimately PETA strongly oppose the breeding of any dog and so welcome laws which support the principle of banning the breeding of certain types of dogs. This worryingly includes Staffies and other bull breeds which PETA state are subject to disproportionate abuse compared to other breeds. However, it is our experience and that of many Staffie and bull breed owners that these dogs can be wonderful dogs and can make lovely family pets.
Staffies still make wonderful pets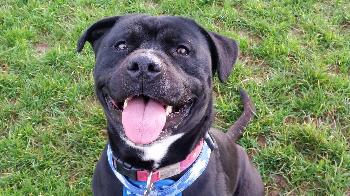 While we are sympathetic to the issues PETA are highlighting, we're concerned that PETA's approach will further 'demonise' the reputation of pitbull terrier types, bull breed and out lovely Staffies.
Many staffies have been wonderful family pets in Britain for decades; but their portrayal in the press over recent years has led to some becoming desirable to those who want to own dogs for all the wrong reasons. As a result of this, we're now seeing large numbers of Staffies coming into our care in need of a loving home - through no fault of their own. Many of these are sociable, affectionate and playful and have been successful rehomed.
Stripey, a shy but sweet Staffie cross who recently featured on The Dog Rescuers has been described by Kirsty Long, behaviour assessor as:
He is a very clever boy with a keen brain who is very motivated by food - he would definitely enjoy learning new things!

Playtime is Stripey's favourite past time, he adores toys of ANY type! If you ask 'Where's your ball?' he will run to find you one. Although he loves soft toys... they tend not to last that long.

Stripey also enjoys cuddles, climbing on your lap and giving kisses!
Could you rehome a Staffy, like Stripey, who for wants a loving home?
We stand against Breed Specific Legislation
Whilst we would love to see more people choosing to rehome rather than buy a dog from a breeder, we strongly disagree that banning certain types of dogs is the way to achieve this.We continue to stand fundamentally opposed to BSL. We are equally concerned about the large number of dogs needing homes and the cruelty and abuse some dogs are subjected to, but we don't believe that BSL is the solution to the problem.
Thousand of dogs have been subject to stressful procedure as a result of BSL and many have been needlessly euthansed because of the way of way they look. We hope that the committee will listen to our evidence and that of other, which is based on science and fact, and recommend that BSL is repealed and replaced with breed neutral legislation.
Take action to help us #EndBSL for hundreds of innocent dogs.