Neglected cat is transformed and finds loving new home
A cat who suffered from a severe ear condition has been transformed in RSPCA care and found a loving new home.
We received a call and photos to our National Call Centre about a cat with a bleeding ear. When our inspector investigated she could immediately smell the unpleasant smell of infection coming from the 12-year-old cat's ear. His owner told her that their cat called Alfie had not been to a vet as she couldn't afford veterinary fees and implied that he was an old cat anyway so she didn't need to.
Urgent veterinary treatment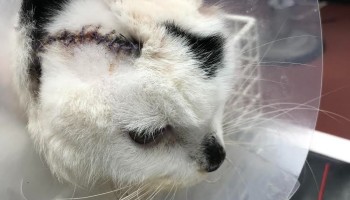 His owner agreed we could take Alfie to a vet so that he could be examined as soon as possible. A large part of his ear pinna (his external ear flap) was missing and the remaining tissue was crusted over with dried blood. Due to COVID-19 restrictions, the vet was wearing a face mask throughout the examination but this did not stop her from reacting to the strong odour.
The vet concluded his right ear would require amputation as the tissue was too severely damaged to be saved. The infection and destruction present would be causing Alfie significant pain and he was in a suffering state. Police took Alfie into possession and passed him to the our care.
Alfie's delightful temperament
Alfie was given pain relief and antibiotics to keep him comfortable until his operation. The vet commented Alfie had a delightful temperament - he enjoyed a fuss but he frequently shook his head indicating that he was in discomfort from his condition despite having been given pain relief.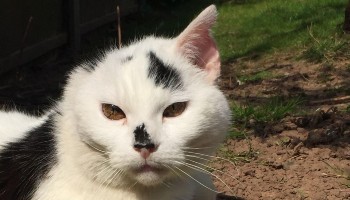 Laboratory tests revealed he had cancer in his right ear and to a lesser extent in his left ear. The results showed this would have developed slowly and meant Alfie was left without appropriate veterinary care for a considerable length of time, most likely to have been months.
The person responsible for Alfie said they had noticed Alfie's ear becoming red and sore six months previously and said they used antiseptic spray from a supermarket and warm salt water in an attempt to treat it. Most pet owners would take their animal to a vet if their pet's wounds did not heal.
The owner was charged with an animal welfare offence of causing unnecessary suffering to Alfie by failing to provide veterinary treatment. Following our prosecution, magistrates disqualified the owner from keeping all animals and ordered them to pay a fine and costs.
Happy ending for Alfie
Alfie was signed over to us and it did not take us long to find him a new loving home. Alfie's new owner says he settled into the family straight away and is very good with her four year old child. She says:
Milo loves fuss and attention from visitors.
He loves to sunbathe (with sun cream on of course) and snoozed the day away on his bed.
He is an amazing cat and deserves all the love in the world and will be spoiled for the rest of his life!