null
Our hospitals have treated 5,495 animal emergencies during lockdown
Our hospitals have treated 5,495 animal emergencies during lockdown
We've treated 5,495 emergency cases at our animal hospitals and clinics since lockdown started.
Staff at our five animal hospitals and clinics have been providing emergency care to thousands of animals rescued by frontline officers during the crisis.
We've released the figures as part of our emergency appeal, launched to keep our frontline rescue teams working during the Coronavirus crisis.
Caroline Allen, our chief vet, said:
Our hospitals' teams have been working incredibly hard around the clock to help animals who need emergency care.
They've had to change the way they work in order to keep themselves and the public safe but they've done such an amazing job to make sure we can still be there for animals most in need throughout this crisis.
Our frontline staff are designated key workers
Staff at our five hospitals and clinics have been designated key workers by the Government but vital funding is needed to help our frontline staff continue this crucial work across England and Wales.
Our hospitals are not operating as normal and instead are focussing work on those animals most in need of urgent care, which have been rescued from cruelty, neglect and suffering by the inspectors.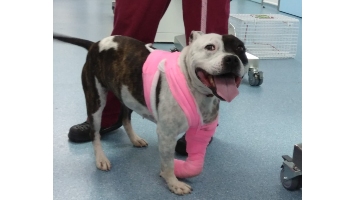 Since the country went into lockdown on 23 March, our hospitals in Birmingham, London, Manchester and Merthyr Tiydfil have had:
2,505 visits from dogs
more than 2,300 from cats
79 from rabbits
540 other pets and wild animals
Our hospital teams have carried out more than 1,100 procedures, including operations, and nearly 1,400 animal patients have had to stay in for treatment.
Some of the lovely animals our staff have helped
Staffie with an injured leg
Staffie Zena was found with severe leg injuries in Birmingham. As well as injuries to her legs, she also had her mouth bandaged shut and was howling in pain when she was collected by one of our officers. She was taken to our Birmingham Animal Hospital where she's now recovering well.
Abandoned pup Maisy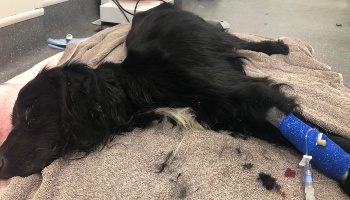 Cocker spaniel puppy Maisy was found abandoned on the side of a road in a critical condition.
Our veterinary staff at Putney Animal Hospital worked tirelessly for 48 hours, hoping Maisy would pull through, but her condition still hadn't improved until one morning, Maisy sat up, and after a few hours, she began to eat and take a few steps.
After weeks of intensive care and rehabilitation at the hospital, Maisy moved to a temporary foster home, where she's enjoying plenty of toys and lots of fuss - everything a puppy of her age should. She'll be found a loving forever home soon.
Kitten needed a specialist oxygen box to recover
Apple the kitten was found on 11 May in Broxbourne. She was shivering, covered in fleas and suffering with weeping eyes, thought to be caused by cat flu.
In a very sorry state, the kitten was rescued by inspector Nicole Smith and taken to our Harmsworth Animal Hospital, where she was tucked up in the warm inside a specialist oxygen box, to help her recover.
Nicknamed Apple by our staff, she has now been taken home to be fostered by volunteer Molly Rogerson, where she'll continue to be hand-reared and receive lots of love and fuss until she can be found a forever home.
Week-old mice abandoned by their mum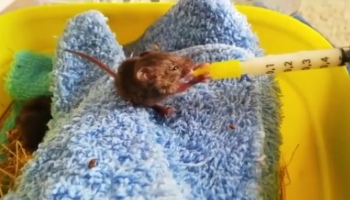 A little family of week-old wild mice have been patiently hand-reared by staff at our Putney Animal Hospital after their nest was accidentally disturbed and their terrified mum ran off and didn't return.
Our hospital's veterinary staff have cared for them during the last five weeks, and plan to release the now fit and healthy family to the wild in two weeks' time.
Emergency care in very different circumstances
Caroline added:
This crisis time has been hard for our hospital teams who have been working in very difficult circumstances. They've had to move to an emergency-only service, and put special procedures in place.
This has been a really stressful time for our hospital workers - they have families, concerns and lives of their own to cope with during this crisis, so the work they¿ve done is absolutely incredible during lockdown.
I'm extremely grateful to them and also to the public who have been supporting them by clapping for them on Thursdays and sending them messages of support.
Since the Government introduced the lockdown measures, we've responded to more than 31,000 incidents and received 112,000 calls for help.
The number of animals being cared for by at our centres, hospitals and vet surgeries has also grown to 4,601 - with 170 of them being cared for at hospitals and a further 48 in vets.
Helping animals and pets through Coronavirus
Many owners are concerned about caring for their pets amid the Coronavirus - or Covid-19 - outbreak, so we're providing regular updates and help on our Coronavirus hub page.
To help us keep treating animals like these and keep our animal hospitals and centres running for emergency treatment and round the clock care through these unprecedented times, please donate online.