You go gull! Bird released after car grille rescue
A gull who was rescued from behind a car grille has been released back into the wild.
The herring gull was found stuck behind the grille of a red Mazda 6 parked in a hospital car park in Ashford, Kent, by a passerby on 29 June.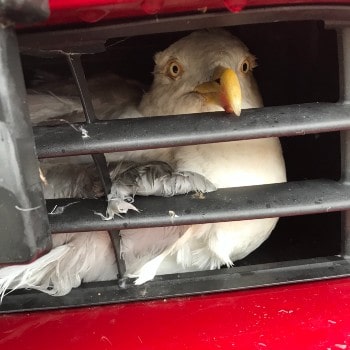 Rescuer Tina Nash was called to help the bird and, eventually, managed to carefully prise the bird out.
She said: "The bird was completely wedged up behind the grille and there's no way he'd have been able to get out himself.
"I expect he'd been hit by the car and the impact pushed him behind the grille but the driver was completely unaware, parked up in the car park and went off without any knowledge he was there."
The gull was taken into the charity's Mallydams Wood Wildlife Centre, in East Sussex, to be monitored.
Miraculously, he didn't have any serious injuries so, on Friday (16 July) he was released onto Pett Level beach, in East Sussex, with a number of juvenile gulls who had been rescued in recent months.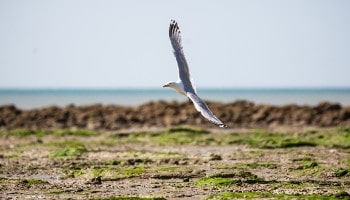 Tina said: "After a road traffic collision and being stuck in the car grille like that I was convinced the poor bird would have major life-threatening injuries so to see him, just a few weeks, given a clean bill of health and released back to the wild with lots of other birds gives me a huge sense of pride.
"It's rewarding moments like these that make me love my job!"
Although gulls are commonly seen in some areas of the country some species - such as the herring gull - is on the UK red list as there's evidence to suggest that their populations are in decline.
We rescue thousands of gulls every year and rehabilitate many of those at our four wildlife centres with the aim of releasing them back into the wild.
---