World Day for Laboratory Animals
This World Day for Laboratory Animals (April 24) we're welcoming progress that has been made - but more must be done. We've pledged to end severe suffering of animals used in research and testing by 2030.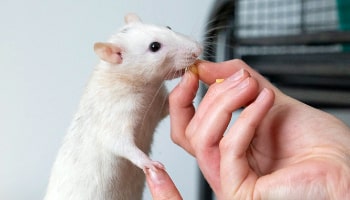 Earlier this year we launched a new strategy which details a series of ambitions, including ending 'severe' suffering of animals used in science.
Our Animals in Science team are working towards this goal every day in partnership with key stakeholders involved in the regulation, use and care of lab animals in the UK and across the world. We've:
produced guidance to help scientists reduce pain and distress in procedures that are unfortunately more likely to be 'severe'
held meetings in the UK and overseas to help people share ways of avoiding severe suffering
and about to launch a brand new version of its online resource showing how to break down each animal's lifetime experiences and minimise suffering at every step.
All this work is starting to see real results. Since data was first collected there has been a year-on-year fall - and figures released during 2020 show an overall 51% decrease since 2014 - in the number of animals experiencing 'severe' suffering in experimental procedures in the UK.
Our head of Animals in Science team, Dr Penny Hawkins, said:
I'm so proud about how far we've already come - although our work can feel like a huge task, it's important to reflect back on the achievements made, particularly over the last year.
Every step forward is making real and positive differences for animals used in science. We'll continue to advocate for animals - by highlighting where practical changes and improvements can and must be made to avoid and reduce 'severe' suffering, and also by increasing general understanding of animals' needs and their capacities to experience positive and negative feelings, including pain, suffering or distress.
Other recent achievements
Rodent Welfare Group Meeting
Alongside the Universities Federation for Animal Welfare, our Animals in Science team convened the 27th Rodent Welfare Group Meeting attended by more than 400 online global participants involved in the care and use of mice and rats.
Reducing the use of horseshoe crabs
Our team supported a project by social scientist Dr Rich Gorman on the use of horseshoe crabs in the pharmaceutical industry, highlighting key ethical, animal welfare and conservation concerns, and highlighting what is being done to replace and reduce their use.
The behavioral needs of zebrafish
We launched a range of engaging posters and published a new scientific article highlighting opportunities for providing housing that better meets the behavioral needs of zebrafish - the second most commonly used lab animal in the UK.
Improved welfare for laboratory fish
We hosted an online event 'Focus on Fish', to promote and share practical ways to reduce suffering and improve welfare for laboratory fishes, which was attended by over 600 participants from around 50 countries.
Eurogroup for Animals
Our team continued to support the work of Eurogroup for Animals towards ensuring clear commitments and strategies are in place across Europe to help achieve the phasing out of the use of animals in science - the ultimate goal of the EU law (Directive 2010/63/EU).
Working towards our ultimate goal
Penny added:
"Our ultimate aim is to see the complete replacement of animal experiments with humane alternatives, and we believe that there's huge scope for - and a critical need to - increase the development and uptake of non-animal technologies."
"In the meantime, we also work hard towards ensuring the use of animals is avoided or minimised , and for them to experience as little suffering as possible, and to maximise their welfare."