We urge Government not to betray voters and sell out on animal welfare in Australia Trade Deal
Today we urged The Government not to betray 83% of the British public, and go back on commitments by sacrificing farm animal welfare standards for a quick trade deal with Australia.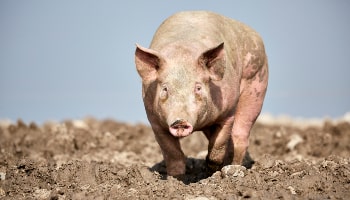 Australia has lower legal animal welfare standards than in the UK, including:
Barren battery cages for hens
Chlorinated chicken
Sow stalls - extreme confinement for pregnant pigs
Mulesing (mutilating sheep rear ends, sometimes without anesthetic) - which is not permitted in the UK
Growth hormone treatment for beef
Journey times of up to 48 hours without rest and live exports when the UK Government is looking to stop live exports and significantly reduce journey times
In addition, because production methods in Australia can be cheaper, flooding UK supermarkets with cheap, low welfare Australian imports would put UK farmers' livelihoods at risk.
RSPCA Chief Executive Chris Sherwood said:
"Just days ago the Government vowed to be a global leader for animal welfare, with Defra publishing a wide-ranging and comprehensive strategy. Now the Department for International Trade is looking to sign a quick trade deal with a country still using worse systems which could undermine that pledge. We'd urge the Prime Minister not to betray the public, farmers and animals.
"While we welcome a trade deal with Australia in principle, it must include safeguards - tariff or non-tariff - to ensure only those products produced to higher animal welfare standards can enter the UK. The UK public have made it clear they do not want lower welfare imports like eggs from hens reared in barren battery cages, chlorinated chicken, hormone treated beef and products from sheep that have been mutilated using practices banned in the UK coming into the country.
"This agreement with Australia is being hurried through before the Trade & Agriculture Commission is even set up, meaning there¿s no formal independent mechanism to scrutinise this deal to ensure higher animal welfare standards are at the heart of the agreement."
Aiming to maintain and improve standards not relax
As part of its manifesto commitment, the UK Government promised to maintain and where possible, improve standards of animal welfare in the UK, particularly as new free trade agreements (FTAs) were negotiated. The UK has higher legal animal welfare standards than Australia in virtually every area. Australia has limited federal legislation on farm animal welfare and its codes of practice have yet to be converted into legally enforceable standards and guidelines so are non binding. The only independent guide to legal farm standards, the Animal Protection Index, scores Australia two levels lower compared to the UK.
To maintain its promises to the public and UK farmers, the Government must ensure tariffs are not relaxed on eggs, beef and pigmeat unless Australia's standards are equivalent to the UK's
and ensure our bans on imports of products produced with growth promoting agents are maintained.
Chris Sherwood added:
To reach the goal of being a world leader for animal welfare the Government needs to back British farmers and provide the support they need to continuously improve welfare standards. The reports that the door will be opened to lower welfare imports are very concerning to us, and we hope the government will swiftly provide assurance that this will not happen.
Without protection built into Free Trade Agreements, we risk setting back animal welfare by decades and betraying British farmers.
The RSPCA asks the Government if it is really prepared to sell out our hard-fought-for animal welfare standards for the sake of a quick deal with Australia?
To help us continue rescuing, rehabilitating and rehoming animals in desperate need of care please donate online or call our donation line on 0300 123 8181.
---