We rescue unusual white fallow deer with antlers stuck in barbed wire fence
We, along with the local fire service, rescue a stuck white fallow deer on Sunday (April 25).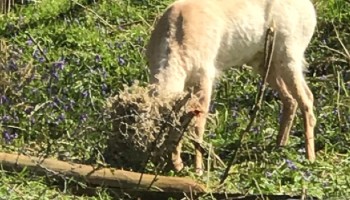 The deer was spotted on some land near stables in Hook by a concerned member of the public who fortunately called us for help.
Inspector Pete Yarde attended, he said:
"This deer had got himself extremely stuck against a barbed wire fence and was in a lot of distress. He had small cuts where he had tried to free himself from the barbed wire.
The fencing was completely around both antlers and wrapped really tightly, it took 45 minutes to free him in total.
Fortunately he had been spotted and we were able to help or he could have been there for a long time.
We called Hampshire and Isle of Wight Fire and Rescue Service for support in freeing the deer and are so grateful for their help.
It was a happy ending as we were able to watch the buck run away back to safety.
Station Manager Lee Sheen said:
Watch Manager Ady Knight attended this incident and we were happy to help the RSPCA with the rescue. Ady used hand tools to release the deer from the fence. It was great to see the buck heading back out into the countryside.
Fallow deers
Fallow deer can have four different coat colours, ranging from very light brown to completely black, and the white colouration is the least common of the four. Fawns will have a sandy or cream-coloured coat when they're born and will become whiter as they age, as it's a true coat colour instead of an albino mutation. Fallow deer can be easily identified, as they're the only British deer species with palmate antlers.
Find out more information on what to do if you see a wild animal needing help.
To report concerns about an animal contact our Hotline on 0300 1234 999.