Our Christmas film shows how pets have been a lifeline during difficult year
Today, we launched our Christmas video with a moving story showing how pets have helped tackle loneliness and isolation during a tough year.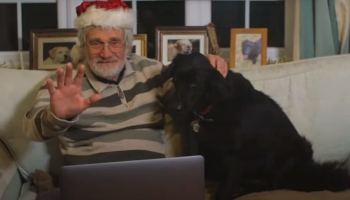 The heart-warming film, which features Backstreet Boys' hit As Long As You Love Me, touches on the difficulties many have faced in recent months, following the story of an elderly man who is feeling lonely and isolated during the Coronavirus pandemic, after losing his wife and his dog.
Viewers watch as his loneliness is mirrored by an abandoned dog, real-life rescue Storm, who finds himself alone, out in the cold until we rescued him.
The film's uplifting ending sees the man contact us and get matched with Storm, bringing him home in time to introduce his new companion to family and friends on Zoom at Christmas.
We wanted to show how much pets have helped us this year
The festive video, made entirely in-house by our broadcast team, shows how pets can help tackle loneliness and improve our mental health.
Our poll carried out by YouGov* revealed that 45% of all pet owners surveyed said their pets have helped their mental health during lockdown. A recent study** carried out by the Universities of Lincoln and York also found that having a pet helped people maintain better mental health during lockdown. More than 90% of the 6,000 participants said their pet had helped them cope emotionally.
Chris Sherwood, our Chief Executive, said:
We all know that pets make fantastic companions but to know that not only do they help tackle loneliness but can also improve our mental health is truly amazing! It's therefore no surprise that during what has been a particularly tough year, we have seen a huge surge in people interested in adopting pets. We know how important it is that people think ahead and make sure they can give a pet a loving home for life, just like Storm and his new owner in the film.
We hope this Christmas video will tug on people's heartstrings and show people how rewarding it is to adopt from the RSPCA. We expect to rescue thousands of animals in need this winter and we can't do that without the generous support of our fellow animal lovers so we hope this touching film will also encourage supporters to donate to the RSPCA and help us continue our vital work."
Singer and our press officer Lucy Ellie Cooper recorded a cover of 'As Long As You Love Me' by the Backstreet Boys for the film, and the video was created by our in-house broadcast team Alan Laxton and Lewis Jones.
Our Christmas film stars
We rescued canine star of the film Storm during the first lockdown back in March. He came into our care at Stubbington Ark after his previous owners could no longer care for him. Storm was incredibly overweight and was put on a strict diet before being adopted by our press officer Amy Ockelford, who also stars in the film.
David Underhill from Storrington, West Sussex, plays the human star of the Christmas video. His daughter works for us and David kindly volunteered his time for free.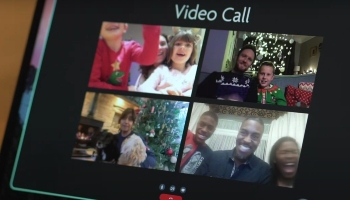 The festive Zoom call features the well-known faces of our inspectors Herchran Boal and Anthony Joynes from our Dog Rescuers TV show. Herchy is featured with her two rescue dogs Loki and Murphy and Anthony with his son Caleb. Also on the Zoom call, is our head of media Catherine Peerless and her two children Robyn and Wren, as well as Hewitt Grant, our head of property, and his children Dante and Aria.
Christmas is a busy time for us
Last Christmas Day, we received more than 950 calls to our cruelty line, the highest number since 2013 and we received 63,000 calls throughout December, or 2,000 a day, making our busiest Christmas period for at least four years.
This year, faced with the financial strain of the Coronavirus crisis, we're concerned that more people may struggle to care for their pets and could see a rise in them being abandoned or neglected, putting more pressure on our rescue teams than ever before.
Donating just £25 could help keep our animal rescue teams on the road and £50 could help feed all the rescued animals in one of our centres for a day.
To help our rescue teams reach the thousands of animals who desperately need us, #JoinTheRescue.
*You Gov poll carried out by the RSPCA with a sample size of 2,072 adults. Fieldwork was undertaken between 1st - 2nd October 2020. The survey was carried out online. The figures have been weighted and are representative of all GB adults (aged 18+).
**Human-animal relationships and interactions during the Covid-19 lockdown phase in the UK: investigating links with mental health and loneliness (PLOS ONE).
---