Calls for crackdown on puppy imports ahead of Christmas rush
We're warning prospective puppy buyers to watch out for Christmas cons as a new survey finds more than one in 10 people are planning to buy a puppy this festive season.
We're concerned that a record number of dogs could be imported over the following weeks to meet the demand for Christmas puppies. Now, as Efra hold an inquiry into puppy smuggling on Tuesday 24 November, we're calling for tougher regulations to tackle the issue, which raises major welfare concerns for the dogs involved.
Getting a puppy for Christmas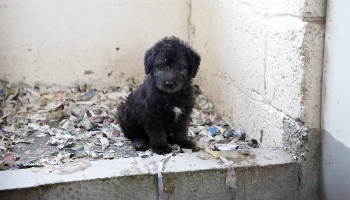 Welfare experts are also issuing a warning to families who may be considering getting a puppy as a Christmas present to look out for breeders and sellers trying to cash-in on the festive rush and failing to take good care of their dogs.
Our chief executive, Chris Sherwood, said:
Every year we see a spike in online searches and adverts for puppies in the run-up to Christmas and with lockdown continuing to drive up demand for dogs, we expect this year could see more families looking for puppies than ever before.
While some of these families will take on loving rescue dogs or buy happy, healthy puppies from responsible breeders, we know that many will unknowingly fall victim to illicit and underground puppy breeders and sellers who prioritise profit over the health and welfare of their dogs.
He added:
Some people may unwittingly buy a puppy who has been bred in poor conditions in a cold, dark barn or warehouse without having access to the proper food, veterinary care and early life experiences that are so important for them to grow into happy and healthy dogs. Others may well have been born in appalling conditions on puppy farms abroad, taken from their mothers at just a few weeks old and illegally smuggled into the country to be sold on to innocent buyers.
It comes as we reveal we'd received 575 reports relating to the puppy trade in England and Wales during lockdown (23 March - 31 October 2020), and as officers prepare for more investigations into unscrupulous sellers in the weeks leading up to Christmas, which is usually the busiest time of year for puppy sales. Earlier this month, the charity was alerted to imported puppies being sold from the back of a van at a motorway service station in Surrey.
Demand for puppies soars during lockdown
Puppy imports have soared since the start of lockdown as demand for puppies rises due to more families spending more time at home. Government figures show that the numbers of licences issued for the commercial import of dogs rose 87% from 14,075 (May-September 2019) to 26,4461 (for the same period this year). And this only accounts for the dogs that are being imported legally. We suspect that many more are coming in illegally under the radar.
We're calling for tougher enforcement on the import of puppies at the borders and also wants the age puppies can be imported (either commercially or non-commercially) to be increased to 24 weeks in a bid to crackdown on the illicit trade in trafficking dogs in to sell them on to unsuspecting members of the public.
Worryingly, 42% of those interested in buying a puppy or dog said they would buy one bred and imported from another country and 38% said they'd buy one that had been smuggled into the country. But many dogs who are trafficked into the country to be sold on the underground puppy market have long-term health problems - like Dobby - and behavioural issues due to their breeding and early-life experiences.
Lockdown puppy Dobby
French bulldog Dobby was just 19-months-old when he was taken in by our Mount Noddy Animal Centre, in West Sussex. He'd been imported from Lithuania as part of the puppy trade before being advertised online. When he arrived at our centre in August 2018 a quick check of his passport revealed he'd been born in the eastern European country before being trafficked into the UK.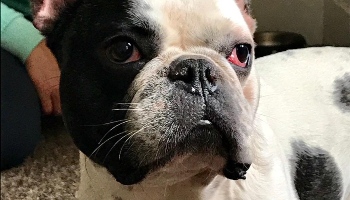 Unfortunately - but not uncommonly for brachycephalic or flat-faced breeds such as Frenchies - Dobby was plagued with health problems and had severely laboured breathing for which he needed a major operation costing £3,000 to widen his nostrils and make more space in his airways. He was underweight, weak and also needed treatment for ear infections and 'cherry eye', a painful condition affecting the membrane in a dog's eye.
Dedicated staff had to roll his food into small balls and hand feed him every two hours to slowly build up his strength and one member of staff, Jo Chambers, took Dobby home on foster so she could monitor him around the clock. After he won over the whole family, they decided to adopt him.
She said:
Dobby needed a second operation to further assist with his breathing and really struggles in the warm weather when we have to keep a really close eye on him. He also has various allergies leading to problems with his skin and ears so is on a low dose of steroids long-term to help manage these conditions. Sadly, many of these health problems are a result of the way he's been bred and he's likely to have ongoing problems for the rest of his life. But we're committed to giving him the best life we can for as long as we have him.
Keith was abandoned by a breeder due to deformity
Puppy Keith was just six-weeks-old when he was found dumped in a cardboard box in a park in Ashton-under-Lyne, Greater Manchester, earlier this month. He was found by a passerby on 7 November after she heard rustling coming from the box and found the tiny puppy inside.
Our inspector Ryan King went to collect the little dog and launched an investigation. We believe the pup had been abandoned by a breeder because of a deformity to his paw leaving him unable to bear weight on his front leg.
Ryan said:
To dump a helpless puppy in this way is callous and cruel and I believe someone has bred a litter of pups and decided to abandon this one because they notice he had a deformed paw and decided they would not be able to make any money from him.
Unscrupulous breeders see puppies simply as quick cash and will do all they can to maximise the profit margins by keeping them in poor conditions, feeding them low-quality food and avoiding spending money on veterinary care for any injuries or illnesses. It's likely that as Keith would have needed veterinary attention for his paw they've instead decided to abandon him so he's someone else's problem - and financial burden. Luckily for Keith, he's now safe in our care and is being fostered by one of Ryan's colleagues.
Survey finds 12% of people likely to buy a puppy for Christmas
In a new survey - carried out by Savanta ComRes on behalf of us - 38% of UK adults said they owned a dog and, of those, a quarter (24%) got their dog since the start of lockdown and the
remaining three quarters (76%) before lockdown. But 23% of respondents said they would be interested in buying a new puppy or dog in the next six months and 12% said they're likely to buy a new puppy or dog for Christmas.
The survey also found 79% of UK adults agree that dogs shouldn't be smuggled between countries and 78% agree that all dogs coming into the country from abroad should receive mandatory health screenings. While 52% agree that puppies and dogs should not be imported from other countries outside the UK under any circumstances.
We're supporting Defra's Petfished campaign encouraging prospective buyers to think about who is behind the pet and urges anyone thinking of getting a pet to adopt instead of shop. For those who wish to buy a puppy, we encourage using The Puppy Contract to help find a happy, healthy dog.