RSPCA Cymru celebrates campaign success as Welsh Govt announce glue trap ban
RSPCA Cymru is celebrating as the Welsh Government announces its intention to ban the use of glue traps - after two Senedd Members tabled legislative proposals from the charity which would have outlawed the devices in Wales.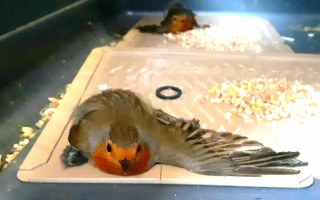 In its policy response to the Agriculture (Wales) Bill's White Paper, the Welsh Government has announced plans to ensure the legislation will "amend the Wildlife and Countryside Act 1981 to ban the use of snares and glue traps" in Wales.
While the Welsh Government had previously announced plans to ban snares in its programme for government, this is the first time they have committed to doing the same for deadly glue traps too.
Glue traps, also known as 'glue boards' or 'sticky boards', consist of a sheet of plastic, cardboard or wood coated with non-drying adhesive designed to trap rodents such as mice and rats as they cross the board.
Three RSPCA-backed bill ideas were put into the ballot
The announcement follows the RSPCA's recent #LawsForPaws campaign - where animal lovers across Wales sent thousands of emails to their Members of the Senedd, urging them to use the Welsh Parliament's first ballot for Member-proposed legislation for three years to propose RSPCA-backed animal-friendly proposals, including a Glue Trap Offences (Wales) Bill.
Three RSPCA-backed bill ideas were put into the ballot - including two proposals which would have banned the use of glue traps, tabled by Vikki Howells MS and Andrew RT Davies MS. While neither got lucky when the ballot was drawn, the Welsh Government has responded by - only days after the ideas were submitted - confirming it will now ban the use of glue traps in Wales.
A huge 73% of incidents seen by the RSPCA concerning glue traps involved non-target species such as pets and other wild animals, many of which were too badly maimed and injured to survive.
Sadly, in attempting to pull themselves free, animals can rip out patches of fur, break bones or even gnaw through their own limbs to escape. Animals caught by the devices can also be trapped for prolonged periods of time - experiencing potential pain, distress and severe suffering. Unattended animals can die slowly from dehydration, starvation or exhaustion.
Banning glue traps across England and Wales
In England, Wolverhampton North East MP Jane Stevenson has the UK Government backing for her Private Member's Bill, the Glue Traps (Offences) Bill - which will ban these devices in England.
David Bowles, our head of public affairs, said:
Glue traps are horrible devices - and our officers have been left shocked and horrified by the awful injuries inflicted to wildlife, pets and other animals.
These traps can cause immense pain and suffering to animals, and should have no place in modern Wales. So we're absolutely delighted that the Welsh Government has now announced plans to outlaw glue traps once and for all, as it outlines its next steps linked to the landmark Agriculture (Wales) Bill. This follows earlier announced plans to ban snares too.
This latest announcement comes on the back of our successful #LawsForPaws campaign - which saw us launch a list of ten ready-to-go Bills, and our supporters urge Senedd Members to put these animal-friendly ideas into a Welsh parliamentary ballot for Member-proposed legislation.
Vikki Howells MS and Andrew RT Davies MS put forward plans to ban glue traps in Wales, and we're so grateful to them. The campaign demonstrated the strength of feeling which exists among the public and within the Senedd for ridding Wales of deadly glue traps. While we weren't lucky when the ballot was drawn, we're delighted the Welsh Government has now decided to act following this campaign's momentum.
Since 2017, we have received six reports in Wales of animals in danger from a glue trap - but we know many more incidents sadly won't be reported. Fortunately, we are now a big step closer towards a ban on torturous, cruel glue traps - and hope this will be one of a number of positive things the Agriculture (Wales) Bill delivers for animals, including banning snares, and incentivising farmers delivering higher standards of welfare on their farms.
Vikki Howells MS said:
Snares and glue traps work in similar ways, inflicting pain and suffering, causing hideous injuries and leading to the death of what are in many cases non-target species.
They are barbaric instruments which are more appropriate to a medieval museum of torture, rather than implements to be used indiscriminately in modern Wales.
I am pleased to have worked with RSPCA Cymru for many years to raise awareness of this, and to press for a change in the law including through my Member's Bill, and I look forward to the Welsh Government bringing forward its detailed proposals to protect animals in Wales.
Andrew RT Davies MS said:
The UK Government has rightly supported the banning of glue traps in England and its vital Wales follows suit.
While my Bill was not selected, I'm pleased the Welsh Government have now confirmed they will outlaw glue traps in Wales.
It's vital this progresses quickly and I will continue to press on this in the months ahead.
Incidents dealt with by RSPCA officers
Two robins trapped
In March, two robins were rushed to the RSPCA Oak & Furrows wildlife centre in Cricklade after being found stuck on a glue trap in Lydiard Millicent in Swindon. Staff at the centre were able to remove the robins from the trap using coconut oil and butter - but sadly both birds died following their shocking ordeal.
Bromsgrove Buzzard stuck on glue trap
In Bromsgrove, in mid-March, a buzzard was spotted with his wing stuck to a glue trap near Ye Olde Black Cross pub on Worcester Road. Fortunately, the exhausted buzzard managed to free himself from the trap - and was closely monitored by the RSPCA as he recovered from the incident.
Cat in North London
The indiscriminate nature of the devices means - sadly - even domestic pets can fall victim. Last November, a cat was found trapped in an alleyway in Cricklewood Lane in north London, horribly stuck to four glue traps. Tragically, horrific injuries to the cat meant the feline ultimately had to be put to sleep - despite emergency treatment.
---