RSPCA urges owners to get their rabbits neutered on this World Spay Day
The RSPCA is urging owners to neuter their pets to help control the surge in unwanted rabbits. World Spay Day on Tuesday, February 28 is aimed at educating the public on the importance of neutering their pets. The number of rabbits coming into the charity's care has increased by a shocking 48 per cent.
The Rabbit Awareness Action Group (RAAG) - which includes, among others, the RSPCA, the Rabbit Welfare Association and Fund (RWA&F) and pet food provider Burgess Pet Care - is reminding pet owners of the benefits of neutering their pets.
Neutering at the right time cuts the number of accidental litters and reduces the risk of serious illnesses, such as uterine cancer in female rabbits. The RWAF advises owners that male rabbits can be castrated from 10 weeks, while females can be spayed from four months.
Animal centres are full
The RSPCA and other RAAG charities deal daily with the problems caused by unwanted litters. Animal centres are full of abandoned and unwanted rabbits. Last year the charity branches dealt with 1,942 unwanted rabbits.
Dr Jane Tyson, rabbit welfare expert at the RSPCA, said:
Along with other charities, the RSPCA has seen a surge in rabbits coming into our care, along with a drop in the number of people offering to adopt. Sadly, accidental litters are all too common and, even with planned breeding, there just aren't enough homes for all the rabbits that are being born.
We'd urge anyone who has rabbits to ensure they know the sex of their pets and owners can find help on our advice pages. Rabbits can breed earlier than people think - they can have large litters and can get pregnant soon after giving birth.
As seen too often by our frontline staff and centres, this means that owners who started with a pair of rabbits can quickly find themselves overwhelmed and needing help. We'd urge anyone with young rabbits to talk to their vet if they are unsure of the sex of their pets, and also discuss getting them neutered to prevent any unwanted pregnancies.
Dr Richard Saunders, RWA&F vet specialist advisor added:
Pets were often acquired during the pandemic in greater numbers with less pre-planning, including neutering, which coupled with increased pressure on veterinary practices, has led to a huge population boom among the companion rabbit population.
This has overwhelmed rescues and shelters, and so we're calling on breeders to place a temporary halt on producing more rabbits, and doing everything we can to facilitate and support rabbit neutering, including proudly being part of World Spay Day.
The cost of neutering
The benefits of neutering rabbits far outweigh the very small risk of surgery. Most vets are happy to undertake both procedures (castration and spaying). The costs can vary and spaying is more expensive, but it's always best to make an appointment with a vet who has a track record in rabbit care, even if you have to wait longer to be seen.
There may be help available towards vet costs and owners can check with their local RSPCA branches to see if they are eligible for help.
RSPCA Kent-North West Branch case-study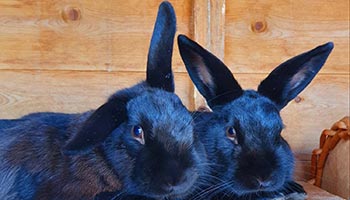 The branch had to manage the unexpected cost of caring for an extended family of rabbits after their former owners had failed to neuter the parent rabbits.
The branch took in two adult rabbits, Sarah and Hector and their three offspring, Johnny, Meena and Ash. Within days their attempts to neuter the parents failed as they found Sarah was pregnant again. She went on to give birth to Box, Fidget, Toast, Crumbs and Kanga and the family grew to 10!
Becky Blackmore, Branch manager, recalled:
Sarah and Hector were only 10 months old themselves but had already had a tough life and were left together unneutered. We soon had 10 rabbits from this one original pair, all of which needed neutering and the babies had to stay with us until they were old enough for this to happen.
What started with just a pair of pet rabbits in a hutch in a garden snowballed - and without neutering and responsible ownership, this is a problem we expect to see again and again.
It took the branch nearly a year to rehome all the rabbits, but had the parents been neutered early on then thousands of pounds could have been saved. The branch had to cover the cost neutering in addition to the cost of vaccinations and microchipping.
Dr Suzanne Moyes, deputy managing director at Burgess Pet Care, said:
World Spay Day is a timely reminder of the many good reasons why animal lovers everywhere should neuter their rabbits.
Owners are often unaware that not only is it the responsible thing to do, but it's also the kindest thing you can do. We hope that by highlighting the benefits of neutering on World Spay Day we can help to raise awareness and dramatically reduce the number of unwanted litters across the UK.
For pet owners who are worried about the cost of living crisis, the RSPCA has opened a telephone helpline to support callers and a dedicated Cost of Living Hub with practical help and advice on the website.
Among the rabbits RSPCA centres and branches currently have available for rehoming, many were unneutered when they came into the charity's care and some were rescued from poor living conditions. To help the RSPCA continue rescuing, rehabilitating and rehoming animals in desperate need of care you can donate online or call us on 0300 123 8181.
---