We urge the public to do their research as the UK sees a 'summer boom' in kitten buying
We're urging people to do their research before taking on a pet as figures show there's been a huge spike in people looking to buy or rehome kittens this year.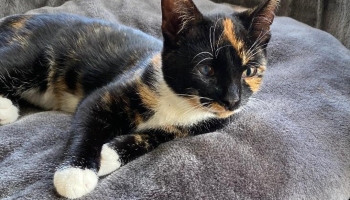 This July saw Google searches for 'Kittens near me' increase sixfold compared to the same period last year (a 667% increase). During the lockdown, there has also been a 188% increase in searches for kittens within just a few months.
There have also been more than 45,000 incidents relating to cats reported to us so far this year. We currently have 878 cats in our care which is more than any other pet rescued.
Being at home more has encouraged people to buy pets
Many people have found they now have more time on their hands during the lockdown, so it's unsurprising that many have sought a pet to keep them company. However, we would always urge anyone thinking of getting a pet to consider whether they can care for them in the long-term - and not just for a pandemic.
Alice Potter, our cat welfare expert, said:
"It's fantastic that so many people are interested in bringing a cat into their home this year. However, with such high increases in people searching for kittens online, it's important that prospective owners are doing their research and not buying a kitten on impulse. This means making sure they have the time, money and resources to care for a cat for the rest of their lives, but also ensuring that if buying a kitten they're buying a healthy and happy kitten from a responsible breeder.
"It's true that we see much higher cases of puppy farms than unscrupulous kitten breeders but it does happen which is why it's so important to do your research and make sure you're buying from a reputable seller.
"Sadly, we do see cases of cats coming into our care who have been bought without the correct vaccinations, care or attention and the results can not only be devastating for the cats themselves but also the new owners who have to provide the time and cost it takes to look after these very poorly kittens. This is why the RSPCA and other cat charities have come together to create The Kitten Checklist to provide vital information, such as ensuring you see the kitten with its mum and siblings in the place where they were bred, and peace of mind for anyone looking to bring a kitten into their home."
Adopt don't shop
This Adoptober, we're encouraging people to adopt a rescue cat instead.
During the lockdown, there's been a 114% increase in the number of people searching for cats to adopt on our Find a Pet compared to the previous year.
Alice added:
"It's great to see so many people are looking to adopt a rescue cat with more than a million people visiting our Find a Pet during the pandemic.
"We are braced for a kitten season boom next year as routine neutering procedures had to be put on hold during the lockdown. This means that whilst the UK is already facing a cat overpopulation crisis, we may now see even more unplanned litters of kittens. If you've got a kitten during lockdown, it¿s so important to get them booked into your vets for a spay or a snip.
"Kittens can get pregnant from just four months old and there may be a longer wait than usual at some vet practices due to the pandemic, so it's important to get them booked in early. We believe neutering from four-months-old can help tackle the overpopulation crisis and ensure we don't see more unwanted litters being born and putting extra strain on rescue centres like the RSPCA.¿
Cats are popular pets with us rehoming 24,095 cats last year, compared to 7,480 dogs and 2,569 rabbits. That's:
2,008 cats a month
463 a week
66 a day
three every hour
or one cat rehomed every 20 minutes.
Cats Ringo and Ripley are ideal for homestayers outside of COVID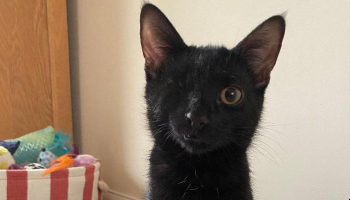 Cats just like Ringo who was abandoned with his siblings in a skip and was suffering from severe cat flu.
Name: Ringo and Ripley
Age: Six months
Breed: Black domestic shorthair and tortoiseshell
Where: Stafford, Wolverhampton and District branch
Bio: Ringo is the sweetest, most loving kitten you could wish to meet, he loves to curl up on your lap for a cuddle where he purrs so loudly.
Why he's special: Ringo came into the branch with his four siblings after being found in a skip. All of the kittens had the most dreadful cat flu resulting in severe eye infections, and unfortunately, Ringo's eye infection was so bad it ruptured his eye resulting in it having to be removed. (pictured right) Ringo was so brave after his operation and recovered well. Having one eye does not hamper Ringo at all as he has perfect sight in his remaining eye.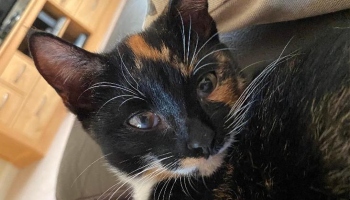 Type of home needed: The branch is looking to rehome Ringo with another cat called Ripley. They are not siblings but have been together from the very start and are extremely close. Ripley had a severe eye infection when she came into the branch care but this hasn't affected her vision.
They'll need a quiet home with someone who can be around for most of the day as they both love company. They would also benefit from a nice, safe garden to explore.
For more information about Ringo and Ripley contact our Stafford, Wolverhampton and District branch.
Cat Junior is looking for someone to bring out his confidence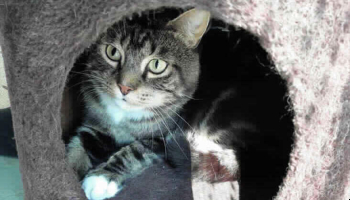 Name: Junior
Age: Two
Breed: Domestic shorthair
Where: Southridge Animal Centre
Bio: Poor Junior was found straying and had a wound to his head. Luckily a member of the public spotted him and called us for help. He spent quite a bit of time in one of our hospitals receiving care and is now ready to be rehomed.
Why he's so special: Junior is a very nervous little boy and often hides away. But he's now making slow progress through positive association with food and treats. He doesn't appear to have had much interaction around humans or any handling. As a result, he'll need kind patient understanding owners in a safe environment where he can slowly gain his confidence and learn to trust.
Idea home: As Junior is so nervous we feel an adult home would be best for him as he will need time to settle in. Junior will need a patient understanding owner who will help him learn to trust again and come out of his shell so they can see his true character. We do not have any history on him living with cats but feel another friendly cat in the home may help him gain his confidence.
Please see Junior's find a pet page to find out more and email southridge@rspca.org.uk.
Rehoming
Under the current Covid rehoming protocols anyone interested in fostering or adopting an animal from us should look at which animals are available near you and check with their local centre for the current process applicable in that area.
Due to the amount of interest we're receiving and the impact of Covid on our staffing levels, please bear with us as our centres are very busy at this time.
To offer a rescue cat a new home please see our Find a Pet to find your purr-fect match.
If you're not in a position to give a pet a home this October, you can still help thousands of animals in our care by donating online, sponsoring a cat pod for just £1.50 a week, or supporting the work of your local RSPCA centre or branch.
---