Twelve primary schools qualify for RSPCA-backed debating finale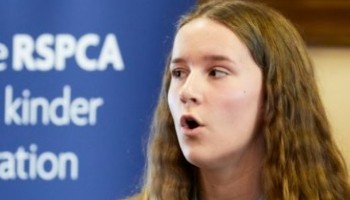 Twelve primary schools have qualified for a prestigious RSPCA-backed debating competition, with the Grand Finale set to be live-streamed to the world.
The animal welfare charity has run its 'Great Debate' secondary school debating competition for a number of years, and 2021 marks the first time that primary school pupils also have the chance to compete in a RSPCA-backed debating tournament.
For this academic year, the RSPCA have partnered with Debate Mate for their primary schools' Debate Mate Cup final. Debate Mate is a global educational organisation, aiming to power social change through equipping children and young people with the skills and confidence to become world-class communicators through their after school debate clubs.
Twelve primary schools have come through heats to go through to the Primary Debate Mate Cup x RSPCA Grand Final on 15 June from 4:30pm to 5:30pm.
Ryefield (London), Elmhurst (London), Rathfern (London), Redriff (London), Ashmount (London), Globe (London), Cyril Jackson (London), Regents Park (Birmingham), Blue Coat School (Birmingham), Parochial (Ashton-under-Lyne), Plymouth Grove (Manchester) and St Luke's Church of England Primary (Manchester) will all compete in the finale.
Schools will then be whittled down through a series of knockout debate rounds - including being quizzed on animal welfare topics - before two schools face off in a final head-to-head debate, where they will discuss the role of wildlife on the school curriculum.
Participating schools will debate the motion: "This House believes that schools should spend as much time teaching students about wildlife as they do teaching English and Maths."
The RSPCA supports animal welfare being taught in schools, and continues to urge the UK Government in England to adopt it on the curriculum, and for the Welsh Government to ensure new Areas of Learning and Experience in schools include a focus on animal welfare.
A live-stream will be broadcast of the debate of the final two schools and those interested to watch can register online.
RSPCA Inspector Herchy Boal will be guest speaker at the event. She will discuss with the young participants her role as a frontline inspector; and the animal welfare charity hopes the event will help "inspire the animal ambassadors of the future".
The debate will be chaired by the RSPCA's head of education, David Allen.
Debating competitions has proven a key part of the RSPCA's Generation Kind scheme, aiming to inspire young people to be kind and compassionate to animals - and the animal welfare charity is "over the moon" the scheme's influence continues through their partnership with Debate Mate.
David said: "The RSPCA's Great Debate programme is so important to us - and this year, we're so excited to have partnered with Debate Mate to give schoolchildren a fun and rewarding opportunity to debate pertinent animal welfare topics; and to give primary age pupils this experience for the first time.
"We know that when children learn about animal welfare, they're more likely to enjoy healthy relationships with animals and people throughout their lives. We're over the moon to be partnering with Debate Mate, who have over 150 schools on their Programme who will all be learning about animal welfare - it's absolutely fantastic.
"The 12 primary schools competing at the PDMC x RSPCA Grand Final have already done so well to qualify for the event - and I am so excited to hear their persuasive arguments and debating skills. I always learn so much from these inspiring young people.
"Primary school pupils from the final two schools will end up discussing whether schools should teach pupils as much about wildlife as they do English and Maths; and it'll be an amazing experience for them and the public at home that this event will be live-streamed to the world.
"Certainly, the RSPCA wants to see animal welfare feature much more prominently on school curricula - but I know the pupils taking part will have strong cases to make on both sides about how much we should learn about wildlife in the classroom."
The RSPCA - with the support of educators and teachers - have written a debating animal welfare lesson plan which encourages teachers and students to host their own debates and discuss the role animals play in our lives. Materials are available for schools in England and in Wales.
David added: "Our Generation Kind scheme is all about inspiring young people to be compassionate, empathetic and understand our fellow living creatures - and school debates are a great way for children to discuss the role animals play in their lives, and how we should treat them.
"We'd urge schools and teachers to get involved - and use our bespoke animal welfare debating lesson plans; in a concept we hope will continue to inspire the animal ambassadors of the future."
Find out more information on the RSPCA's educational work, including resources for schools, teachers and educators.
Find out more information on the work of Debate Mate and their global schools programme.
---