Trustee receives OBE in Queen's New Year Honours
We're thrilled that our trustee Amanda Bringans has been recognised in the 2022 New Year Honours list.
Amanda, who joined our board of trustees last month, has been awarded an OBE for services to charity.
She has previously served as executive director for several well-known charities including Macmillan Cancer Support, Voluntary Services Overseas, Battersea and British Heart Foundation. She has also had a long and successful career in the voluntary and commercial sectors, focused on fundraising, marketing, brand strategy and media sales.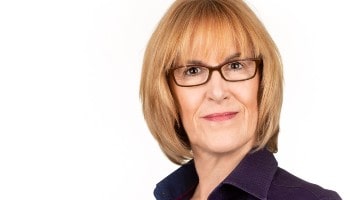 Amanda, who is based in south-west London, said: "I'm amazed and grateful to have been given an OBE. I have spent many years working for some extraordinary charities, with some wonderful, dedicated fundraisers, to whom I would like to dedicate this award. Working with them all has been an honour and a privilege."
Amanda was chair of the Chartered Institute of Fundraising from 2017 to 2020 and has also sat on the board at Regent's University and Grove House Hospice. In 2018, she was listed by Civil Society as one of the top five most influential people in fundraising.
She currently runs her own coaching and consultancy practice, supporting clients from a wide range of backgrounds, including finance and education. Alongside that, Amanda is also studying for a Masters in Applied Positive Psychology and Coaching Psychology at the University of East London.
Our chief executive, Chris Sherwood said:
On behalf of everyone at the RSPCA, I'd like to congratulate Amanda on this well-deserved award which acknowledges the significant contribution she has made to the charity sector, particularly fundraising, over many years.
Amanda, who lives in Twickenham, is passionate about animal welfare and has a particular interest in the human and canine bond and its transformative potential. She's been a member of the RSPCA since 2019 and a cat and dog owner for most of her life.
---