Tributes paid to former Chief Inspector
Tributes have been paid to an animal rescuer and investigator, who spent almost 50 years tackling cruelty, following his death.
Former Chief Inspector Mike Butcher sadly passed away on Friday 12 August, aged 70, following complications after a long battle with cancer.
He lived in Worthing, West Sussex, with his wife, Jenny Eden - whom he met during his near five-decade career with the animal charity - and his rescued dog, Stanley. Mike spent much of his career based at our headquarters in Southwater and Horsham.
Mike worked for Cambridgeshire Police before joining the RSPCA in 1972, where he worked for 48 years, initially as an Inspector based in North Yorkshire and Northumberland.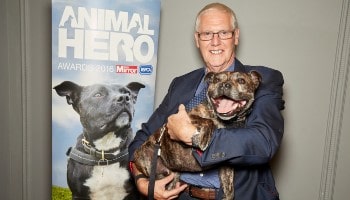 He then joined our Special Operations Unit - a specialist investigations team who look into serious, organised and large-scale animal cruelty - permanently in 1985 as an Inspector before becoming a Chief Inspector in 1990. He worked with the team until 2020, during which time he became one of the UK's leading experts on animal fighting.
During his time with us, he led hundreds of investigations into animal cruelty, including cases against dog-fighters, puppy farmers, and badger diggers, as well as securing more than 300 convictions against animal abusers and being involved in the rescue of thousands of animals.
Chief Inspector Ian Briggs, Mike's colleague of 22 years and acting head of SOU, said: "Mike devoted his career to protecting animals in need and worked tirelessly towards apprehending and bringing to justice those who sought to deliberately abuse animals for their own enjoyment or financial gain.
"I and the other members of the Special Operations Unit will always be thankful for the time we had working alongside Mike. Seeing first-hand the passion and dedication he brought to work each day was inspirational to us all; his expertise and knowledge within his chosen field will never be replaced."
During his RSPCA career he received a commendation, certificate of merit and special commendation for his work with SOU. He also received the 1988 Anderson Plumbe award, COI's Special Service Medal and, in 2016, was honoured with the RSPCA Superstar of the Year accolade at the Animal Hero Awards for his long service and commitment to tackling animal cruelty.
In 2014, Mike was diagnosed with cancer but continued to work during his treatment until leaving the Society in 2020.
Chief inspectorate officer, Dermot Murphy, said:
Mike dedicated much of his life to the RSPCA and animal welfare. He was instrumental in bringing a number of organised dog fighters to justice.
Mike was so well known throughout the Inspectorate and someone who I have known for many years. We mourn his loss and all our thoughts are with Jenny, his family and friends at this time.
---