Travel tips for UK staycations with new 'lockdown dogs'
As we begin to ease out of lockdown, UK travel will be permitted for England residents from 12 April 2021.
Many more families are expected to holiday at home this year - with major restrictions on foreign travel expected to remain in place for some time to come - and as 3.2 million households* added a new pet to their family during lockdown for many, this could be their first experience of staycationing with their furry-friend.
What's the best for your pet during the holidays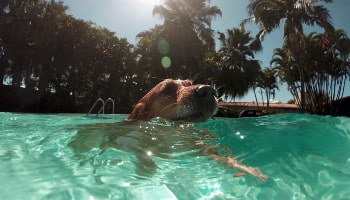 Our pet welfare expert Dr Samantha Gaines said:
"Lots of families took on a new pet during lockdown and may now be planning their first getaway since the pandemic first hit last March. It's really important that they take into consideration what they're going to do with their pet when they go away.
"If you're planning to leave your pet at home then it's important to start planning right away; will your pet be taken care of by a friend or relative, or will they be going into boarding? Arrange a visit before going away to check you're happy with the facilities they have or to go through how you'd like your pet cared for and, if possible, whether boarding or with friends, book your pet in for a short overnight stay to get them used to the experience; especially if they've never been away from you before.
"If you're planning to take your pet away with you then it's important to consider whether your dog will be happy in a new setting or whether it might be a bit overwhelming for them. It's been tricky for owners who have taken on puppies during lockdown to provide them with many experiences due to Government restrictions so going away on holiday may be difficult for some. If you feel your dog will enjoy a getaway and be relaxed and calm throughout then plan ahead and ensure your accommodation and the places you wish to visit during your stay are dog-friendly and remember to take the weather into consideration when planning your activities."
What to consider before taking your pooch on your hols
Going on holiday could be overwhelming for your dog
Consider your individual dog and his personality; does he find new experiences stressful or, if bought during lockdown, have you struggled to provide lots of new experiences due to the restrictions? Consider whether going on holiday may be frightening or overwhelming for him.
Speak to your vet
Speak to your vet before deciding to take your dog on an action-packed getaway. Ask if your pet is suitably fit and healthy to travel, consider their age and their general health and fitness when planning your itinerary. Ensure they're up-to-date with vaccinations, treatments and, if on any medication, that you have enough supplies for your trip.
What's the weather forecast likely to be?
Remember dogs can struggle in the heat so if you're planning a summer vacation you'll need to remember to keep them cool and safe. And never leave a dog unattended in a warm car or caravan as this can be dangerous.
What do your holiday plans involve?
Will your dog be comfortable in a new setting, meeting new people and visiting new places? Some dogs may find it worrying or stressful so, for them, it may be best to leave them at home with someone responsible who'll take care of them.
Plan ahead
Is your accommodation dog-friendly and what facilities do they have? Do the attractions you hope to visit welcome dogs? If you're planning to travel abroad you'll need to secure the relevant paperwork in advance.
What do you need to take with you?
Remember a collar with ID tag, lead, cosy bed, toys and chews, poo bags, food, treats, towel for muddy paws, and a camera to take lots of snaps!
Transporting your pet
Be sure your dog is comfortable travelling in the car and can be safely secured either in a crate or with a car harness. Take regular toilet breaks and remember, never leave your dog unattended in a car on a warm day.
Settling in
Give your dog time to settle into a new environment and don't leave them alone if this will cause them distress. If they seem unsettled you could use a familiar-smelling item to help them settle in. Holidays can be busy so remember to give them time to rest!
They might need to be kept on a lead
Remember they're in new surroundings so if they don't have the best recall you may want to keep them on the lead to ensure they're not going to stray onto a road or near a cliff, especially for 'lockdown dogs' who may have had limited exposure to wide open spaces and few opportunities outside of the home to practice recall.
Keep your dog on a lead at all times when walking in areas where there's livestock no matter how good you think your dog will be. The presence of dogs can be a very frightening experience for some animals so keep your distance.
Have fun!
Taking your four-legged friend on holiday is a great way to make memories, create a strong bond and enjoy spending quality time with your dog so enjoy it!
Taking your cats on holiday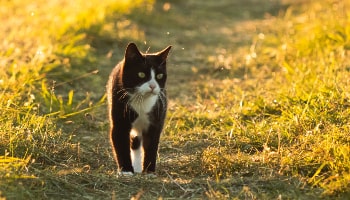 Our cat welfare expert Alice Potter said:
"Think very carefully about whether your cat would enjoy heading off on holiday with you in your caravan or motorhome - life on the road may not be right for every cat.
"If you decide to take your cat with you then it's important to ensure you have all of the items they'll need and all home comforts with you to make them comfortable. Create vertical space in the caravan so they have places to climb and hiding spots to retreat to if they wish. And ensure they're microchipped and the registered details are up-to-date in case they go missing or get lost.
"It's also important to ensure you have a plan for when you'll need to leave your cat in the caravan to visit shops or tourist attractions. Always make sure they're secure and safe and never leave your cat in a vehicle on a warm day as temperatures can very quickly rise to dangerous levels."
---