RSPCA reveals top 10 animal cruelty hotspots
The RSPCA today reveals the top 10 animal cruelty hotspots in England and Wales - as the charity launches a new campaign to 'Cancel Out Cruelty'.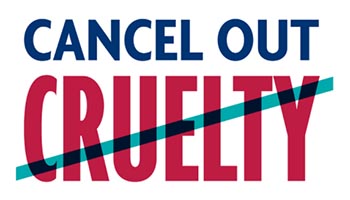 Greater London is the county where the RSPCA investigates the highest number of deliberate cruelty to animals - followed by Greater Manchester and the West Midlands.
West Yorkshire is fourth, followed by Kent at fifth. South Yorkshire, Lancashire, Merseyside, Essex and Hampshire make up the remaining 10.
The charity has released the figures as part of its Cancel Out Cruelty campaign, to raise funds to keep its rescue teams out on the frontline saving animals in desperate need of help and to raise awareness about how we can all help stamp out cruelty for good.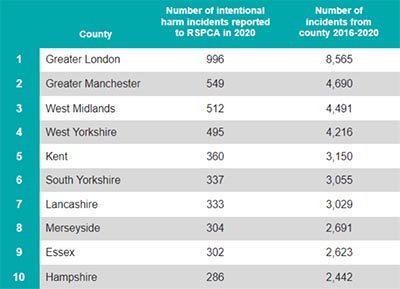 The RSPCA gets around 84,000 calls to its cruelty line every month and around 1,500 of those are about intentional cruelty. But the charity sees a rise in the Summer by around 400 calls, on average, per month, which equates to 47 calls every day or two every hour.
July is a particularly busy month for investigating cruelty - last year the RSPCA dealt with a spike in intentional cruelty as 1,532 incidents were called through to their emergency helpline and the charity is expecting a similar spike this July.
Beatings, knife crime, drowning and intentional killing are just some of the horrific incidents RSPCA animal rescuers deal with every day.
National facts and stats
In 2020 we received 354,784 calls to our cruelty hotline during the summer months (June- August) about all kinds of cruelty and neglect
In 2020 we received 4,339 reports about intentional cruelty during the summer months (June-August) - around 47 a day or 2 an hour
July is our busiest month for investigating complaints - last year we received 34,550 calls throughout the month. The average number of calls we got a month last year was 25,072
In 2020 we received 8,214 calls about someone beating an animal - that's 22 a day - almost one an hour
We also received 1,496 calls about improper killing in 2020 - an increase from 964 in 2019
This is an increase from 2019 when we received 5,757 calls about someone beating an animal
The RSPCA has had almost 100,000 reports of intentional harm to animals over the last five years
Every day the RSPCA has six reports of people killing or attempting to kill animals
The RSPCA's interactive Cruelty Hotspot map shows how many reports of intentional cruelty to animals the charity has received for each county in the last five years.
Cancel out cruelty
The RSPCA's rescue teams need support to stay out on the frontline as the only charity rescuing animals and investigating cruelty.
£6 could help pay to feed a dog for a day in our care
£10 could help pay towards bandages for a cat or dog
£15 could help pay for a cat or dog's clinical exam
£20 could help pay towards a bird catching kit
£30 could help pay for a life jacket for an inspector
£100 could help pay towards water rescue equipment
£500 could kit out a 4x4 inspector van
Donate to the Cancel Out Cruelty campaign and help us continue to rescue animals in need.
You can also help Cancel Out Cruelty by volunteering for us, becoming a campaigner to help us change the law for animals for the better, by becoming a fundraiser for the RSPCA, by learning more about animals through our Compassionate Families programme, buying a Cancel Out Cruelty T-shirt and showing it off on social media, or by pledging to help animals in other ways, such as learning more about your pets' needs, or learning how to help wildlife.
---