Our top 21 animal rescues of 2021
Animals get themselves up to all sorts - and nobody sees that more than our rescue teams.
In 2021, 281,390 incidents were reported to our frontline teams via the emergency rescue hotline, including lots of animals who got themselves into rather a-moo-sing situations.
As we calling on the public to Join the Rescue and help us be there for more animals who need us as we head into 2022, we round-up our top fur-vourite rescues of 2021 (warning, they're a hoot!)
1. Surprisssssse!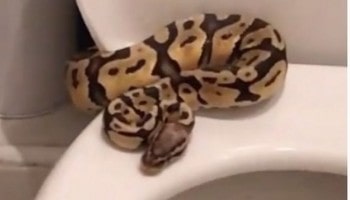 A TV star had a surprise when he was brushing his teeth and spotted a snake slithering out of his toilet! Coronation Street actor Harry Visinoni - who plays Seb Franklin in the popular soap - was at home in Hale, Greater Manchester, with his girlfriend, Ellie, when he spotted the snake in the early hours of 9 January. He said: "I was just brushing my teeth and saw what looked like a snake head pop from behind the wall at the back of the toilet. I didn't take it in at first and then looked again and realised what I had actually seen so I left the bathroom quickly and closed the door. We went back in and watched as the snake then slithered onto the top of the toilet and sat on the seat just looking at us!" They called our hoteline the following morning and rescuer Sonia Hulme went to collect the royal python, now hiding behind the radiator. Now named Lulu, it's thought the snake escaped from it's home and was taken in by specialists.
2. Swan dive
An elderly woman had a lucky escape after a swan crash-landed through a double-glazed window - just moments after she left the bathroom. The bird was flying when she hit the window of the chalet home in Barton in Fabis, Nottinghamshire, on 11 January. The resident went to investigate the smashing sound and found the bloodied bird sat dazed and confused on her bathroom floor. A neighbour called us in and Inspector Keith Ellis went to collect the bird. He said: "I think the swan was looking for the nearby River Trent and must have misjudged the direction. It was also quite windy at the time which may have blown her off course. I have seen them crash-land onto busy roads thinking they are rivers - but nothing like this - it is so bizarre." She was taken to a vet and needed surgery and stitches before being transferred to Stapeley Grange Wildlife Centre, in Cheshire, for rehabilitation.
3. 'Owl did you get in there?'
We came to the rescue of a tawny owl who fell into the extraction fan in a disused hotel in York, North Yorkshire. Rescuer Leanne Honess-Heather was called to the vacant hotel on 18 January after the owner heard noises coming from the extraction fan. The owl was covered in thick grease and, after trying to push herself free, got wedged between the blades of the fan. "Thankfully, the cover was easily removed and we were able to free her," Leanne said. "She had no major injuries but she was dehydrated and covered in thick grease so needed a bath." She was taken for a bath and treatment at a nearby wildlife centre.
4. A step too far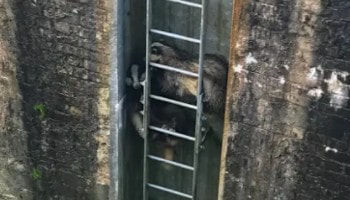 Two badgers needed help after getting trapped on a ladder in a canal in Torfaen, Wales. Our rescue officers were joined by South Wales Fire & Rescue Service at Monmouthshire and Brecon Canal in Cwmbran, on 5 February, after the pair of badgers got stuck between metal steps and the wall. RSPCA animal rescuers Sian Burton and David Milborrow worked with fire crews to abseil down the canal wall and grab the badgers with a grasper, with nets below as precautions in case they fell. The second badger jumped into the water but, after clambering back onto the ladder, was pulled to safety. Both badgers were taken into our care at a wildlife centre for check-ups and rehabilitation before being released back to the wild where they belong. Sian said:
Without doubt, this was the most bizarre and unusual day of my 15 years spent on the frontline for animals.
5. 'How long you bin in there?!'
A cheeky gull needed help after getting stuck inside a litter bin! Animal rescuer Chloe Frost was called to a bin under the railway bridge in Chelmsford, Essex, on 16 February after the stricken bird was spotted by a passerby. Chloe said: "No doubt this cheeky gull was on the lookout for something to eat and thought he'd try his luck in the bin. It seems he got in without a problem, but getting out wasn't quite as straightforward! The gap in the bin was just a little too small for him to get out on his own. I'm really glad the people who spotted him gave us a call as it was a simple rescue for me that helped the gull back on his way again. I made sure to check him over but he was in good health and a nice healthy weight too. Maybe he'll think twice about climbing in a bin again!"
6. Get meowt!
A cat used up one of her nine lives after getting trapped on a roof under solar panels. When residents heard loud meowing they spotted the little tortoiseshell peeking out from under the panel on the roof of the house more than 20ft up in Dinas Powys, Wales, on 29 March. Inspector Darren Oakley and South Wales Fire & Rescue went to help. Darren said: "This poor little cat urgently needed rescuing as we think she had been up there on the roof for some time. The crew were great and were able to persuade the cat to move across to one side, before securing her and bringing her back down to ground level. Once she was safely down, I scanned her microchip, and discovered she lived very close by. It was lucky I did, as Rocket then shot off. But with the details from the microchip, it was easy to find Rocket's owner's house - and sure enough, when we arrived at the home, there was the little cat, safe and sound!"
7. Hole lot of trouble!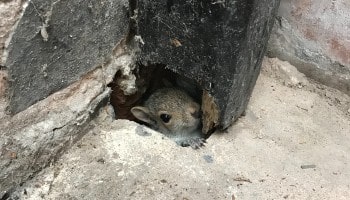 A squirrel needed a helping hand after ending up in a hole lot of trouble. Inspector Elizabeth Boyd was called to a garden in Leamington Spa, Warwickshire, on 11 April. She said: "The little squirrel had pushed his way into a hole in the ground, probably in search of food, but then got stuck underneath a wooden post. The post is supporting an outdoor structure but they were happy for me to saw the post to create some extra space so he could wriggle free and he darted off." The grey squirrel - which is considered an invasive alien species - cannot legally be released back into the wild if taken into care for rehabilitation or treatment. They can only be legally released in situ - as was the case here.
8. A strange place te-gu!
A motorist had a surprise after finding an exotic lizard trapped in their car engine in Devon. Rescuer Jo Pearson was called to Plymouth on 20 July to help. She said: "The caller had described seeing a lizard sitting on the top of the car wheel arch when he left his house. I expected to find a small lizard but was shocked to find a very large tegu inside the caller's engine bay! The lizard was not very happy about being caught and kept manoeuvring under the engine and up under the wheel arch which was inaccessible. Perseverance paid off and after around two hours of waiting, prodding and trying to get the lizard into a position where he could be reached, I seized my opportunity and managed to get a grip on the body to remove the lizard out of the tiny gap." Tegu are large lizards who can grow to more than 3ft long.
9. Oh nuts!
A cheeky squirrel was caught red-pawed helping himself to the nuts for the birds after getting stuck INSIDE a bird feeder cage, made to stop the squirrels! Rescuer Claire Thomas was called out to Ashford, Kent, on 7 August to help the stricken squirrel. She said:
The little so-and-so had managed to get inside the bars and was helping himself to the nuts! He was still trying to chomp on the peanut as I freed him!
The squirrel wasn't injured so Claire set him free and he scampered off back into the garden. As he wasn't taken into care for rehabilitation or treatment he could be legally released, in situ.
10. Grate result
A fox cub needed help after getting his back leg stuck in the metal grate of a drain in Berkhamsted, Hertfordshire. Rescuer Lauren Bailey was called to help the stricken youngster on 8 August when passersby spotted the poor cub. She said: "The fox must have got stuck after his leg fell down the gap and was quite distressed and bedraggled, from the rain, when I arrived. We offered him a little dish of water and then set about carefully trying to wriggle him free. Thankfully, I was able to get him out but was concerned about his leg so took him to a wildlife hospital for treatment."
11. Podge-hog!
Rescuer Lauren Bailey was also called to Banbury, Oxfordshire, on 8 August after a member of the public spotted a podgy hedgehog in a tight spot! Lauren said: "The rather chunky hedgehog had fallen down an open drain and got wedged around 1ft down inside the tight pipe. I was able to bend and flex some metal coat hangers into a little hook and carefully pull him up and out. Thankfully he wasn't injured so I set him on his way and he scurried off into the undergrowth!"
12. Everyone needs good neigh-bours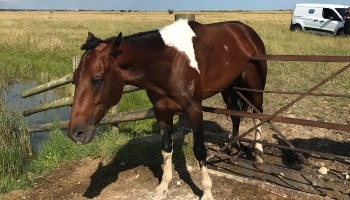 A stallion who was desperate to reach his neigh-bours got himself in an embarrassing spot after getting stuck straddling a gate. Rescuer Tina Nash was called to a field in Rochester, Kent, on 10 August after passing walkers spotted his plight. She said: "He was trying to get to the mares but obviously isn't the greatest showjumper and got himself stuck halfway! The funny thing is that he could have simply walked along the fenceline a little further to see his lady friends!" A crew from Kent Fire & Rescue Service came to help winch the skewbald from the gate and release him back into his paddock.
13. Back of the net!
A ewe was left feeling rather sheepish after scoring an own goal and getting tangled in netting in Rossendale, Lancashire. A homeowner raised the alarm on 22 August and rescue Vicki McDonald went to lend a hand. The poor ewe had got herself tangled up in netting from the football goal and had it tangled around her neck. Thankfully Vicki was able to cut her free, check her over for injuries and release her back to her flock in the neighbouring field. We recommend putting netting away when not in use as it can pose a hazard to animals who can get tangled and seriously injured.
14. Fangs mate!
A motorcyclist had quite the fright when he was riding along a quiet country lane in Conington, Cambridgeshire, and spotted a huge snake slithering in the road. Rescuer Justin Stubbs went out to help, on 27 August, but the snake had climbed up a tree. He said: "I really could not believe it when I got there and saw this huge snake all the way up in the tree - it was a scene a bit reminiscent of the Jungle Book!" He called the fire service for help and, together, they cut the branches around the 10ft reticulated python - thought to have been abandoned - and caught him on tarpaulin below. Justin added: "I've rescued hundreds of animals from trees over my 25 years with the RSPCA, cats, birds, foxes, and I've been called to many snakes, but I wasn¿t expecting to see this stunning animal wrapped high up around tree branches in the English countryside!"
15. Bra-bados getaway!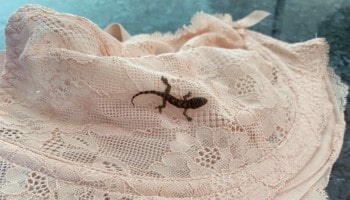 A lingerie-loving lizard travelled more than 4,000 miles in a woman's bra from sunny Barbados to Rotherham, South Yorkshire! The tiny globe-trotting gecko was busted when she was spotted by Lisa Russell when she returned to her home on 8 September and went to unpack her suitcase. She gave her bra a shake and saw the gecko scamper off! She said: "I thought it was a tiny dead creature and then when it moved I started screaming - it is not what you expect to find in your bra after a 4,000-mile journey! I wasn't sure what to do - but managed to put it safely in a box and then called the RSPCA for help." Inspector Sandra Dransfield was sent to collect the gecko and took him to a specialist for care.
16. Night on the rep-tiles!
A runaway lizard prompted a major rescue mission after he slipped out of his enclosure, climbed out of a window, scaled the outside wall of his terraced home and settled in to sunbathe on the roof! Inspector David Grant was called to Folkestone Harbour in Kent on 27 September to help the naughty lizard! David said: "It's the first time I've ever been called out to rescue an iguana, particularly one on the loose on a roof. As it was so high up, I called Kent Fire & Rescue who were able to provide their expertise and equipment to help get the lizard down safely. We didn't want him to run off by frightening him unnecessarily, so we used my drop-net to capture him and we soon had him back on the ground." He was reunited with his owners who will now be taking extra steps to make sure he can't escape to heights again!
17. What a stink!
A missing skunk who'd been on the run for a week was rescued and reunited with his owner after giving staff at a DIY store in Nottinghamshire a bit of a shock! Rescuer Dan Bradshaw was called to B&Q Worksop on 19 October after staff opening up found him eating bird seed outside. They managed to corner and confine him before calling the RSPCA for help and Dan was able to trace his owner. "It was lovely to be able to reunite Tilikum with his owner," Dan said. "I advised them to get him microchipped so they could be reunited more quickly in the future should he ever escape again."
18. Air-raising rescue!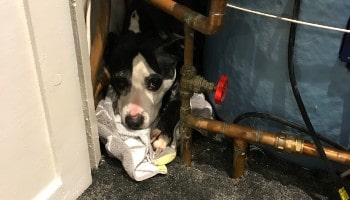 A spooked dog got stuck behind a water tank at her home after being frightened by a loud noise. Her owner, June Coates, tried to coax her out but called for back-up from the RSPCA. Rescuer David McAdam went to help nine-year-old Suzie after she got wedged tight in the airing cupboard in Nottingham on 28 October. He said: "Poor Suzie heard a loud noise at a building site nearby and it terrified her and she bolted into the airing cupboard. She then got her rear left leg stuck under a pipe tight onto her hip. I had a good look but it was impossible for me to get her free as removing her could have potentially ended up hurting her." A plumber drained the tank and cut the pipe so her rescuers could carefully pull her free! June said:
I am so grateful to everyone who worked to help free her. I'm so glad that she was freed - it was a worrying time.
19. Bottoms up!
It was RSPCA inspector Mitchell Smith to the rescue when a not-so-cunning fox got her head stuck in wooden garden decking! He was called to a garden in Luton, Bedfordshire, on 16 October and said: "The caller had contacted the fire brigade to help and I managed to safely cut the decking either side of the fox's head. When the firefighters arrived they cut the plank further along so it could be removed. I managed to then free the fox and check her over and fortunately she was none the worse for her ordeal and ran away."
20. Oh rats!
A curious kitten needed help after he managed to get his head stuck in a rat bait box. Rescuer Jason Finch went to Frinton-on-Sea in Essex on 28 October after a concerned member of the public spotted him. Jason said: "This poor little kitten had managed to get himself totally stuck in this box. It was a tricky process trying to get him out of the box without causing him any more distress, but thankfully I managed to get him free." The kitten, named Mishmish, was taken to Danaher Animal Home for TLC and a warm bed.
21. Rotten luck!
A greedy badger was sett in his ways after having rotten luck while scavenging for food. He climbed inside the compost bin and got stuck, prompting help from rescuer Louis Horton who rushed to Guildford, Surrey, on 24 November. "The green plastic compost bin would normally have a lid secured on top but this inquisitive and hungry badger had spotted an opportunity for what he thought would be an easy meal and clambered in through the open top," Louis said. "The compost bin was around 2ft tall and narrower at the top so although the poor little guy could poke his head out of the top, he couldn't squeeze himself up and out. I used some power tools to carefully cut the top of the plastic away and lift him out." The badger went to Wildlife Aid Foundation for a check-up before being released two days later.
Our teams will be busy this winter rescuing thousands more animals in need, including those got themselves stuck in rather funny predicaments. To help our rescuers stay on the road, responding to calls 365 days a year, please donate online.
If you see a stricken wild animal we advise keeping your distance and monitoring to see if they can free themselves. If they're in immediate danger or cannot free themselves please contact our emergency hotline on 0300 1234 999 for advice or help.
---