Rabbit on iconic Tommy Cooper statue to be named as RSPCA tackles 'bunny crisis'
And 'just like that' - the RSPCA has teamed up with the Tommy Cooper Society and the Caerphilly Observer as part of an exciting new competition looking to name the rabbit featured on an iconic statue of the comedian.
Cooper, who was born in Caerphilly in 1921, was a high-profile prop comic and magician, well known for sporting a red fez. He's remembered by an iconic statue outside Caerphilly Castle, which was first unveiled by fellow Welshman Sir Anthony Hopkins in 2008.
The statue features a rabbit - although, ironically, Cooper's act did not involve pulling a rabbit out of a hat. He was, however, famous for a routine, known as 'white rabbit - black rabbit', which involved sleight of hand and changing the places of model animals on stage.
RSPCA Cymru says Cooper's legacy, the competition and the naming of the rabbit on the statue offer a "great opportunity" to promote key welfare messages about the animal, at a time the RSPCA is facing a "rabbit crisis".
Rabbit welfare expert Dr Jane Tyson, from the RSPCA's companion animals department, said:
Much of Tommy Cooper's unique comedy has well and truly survived the test of time. While he didn't pull live rabbits out of the hat himself, the statue does feature a rabbit - though, thankfully, it's welcome that live animals in any magic tricks are now largely a thing of the past!
The RSPCA is delighted to get involved with the Tommy Cooper Society and Caerphilly Observer to help local people name the rabbit on this iconic statue - which is well known across South Wales and beyond.
We know animals can really capture people's imaginations - and we look forward to hearing some of the amazing suggestions for a name; which may even inspire us when naming the many rescue rabbits in our own centres looking for a new chance of forever home happiness.
The appeal to name the famous metal rabbit comes after the RSPCA experienced an influx of unwanted rabbits across its centres and branches in England and Wales.
In 2020, 672 rabbits came into the RSPCA's care, and in 2021, 859 were taken in by the RSPCA - an increase of 28 per cent. There are growing concerns that the spike in unwanted rabbits is linked to the pets being acquired during lockdown. Sadly, this sometimes has led to inexperienced owners growing tired of them, finding them difficult to care for, or being unable to afford to care for them amid cost of living pressures.
Almost 1,000 more rabbits were classed by the charity as 'neglected' in 2021 - up to 5,451 - compared with 4,544 in 2020.
Dr Jane added:
This competition comes at a really tough time for rabbits across the UK. It's something of a rabbit crisis - with the numbers in our care having increased dramatically in recent times.
We're worried a lot of people will have perceived rabbits as a good 'starter pet' during Covid lockdowns while looking for companionship or something to do. While many rabbits will have found great homes during that time, in some cases, sadly, the situation is different and the novelty is perhaps wearing off - as rabbits have a long life span and complex needs.
However, if prospective owners have done their research, and know the commitment they're taking on - rabbits are simply amazing pets.
There are countless rabbits looking for new homes in our care; so we hope some rabbit-loving Tommy Cooper fans looking to make some new additions to their family will check out the RSPCA's Find a Pet section.
Rabbits are sociable animals - who prefer to live in pairs. The RSPCA rehomes rabbits either as established pairs or seeks to pair up a rabbit with an existing rabbit owned by a prospective adopter.
Dr Jane said:
The little bunny on the statue appears to be a lone ranger - but this is a great opportunity to remind prospective owners that rabbits are naturally very sociable animals and like the company of other rabbits.
Rabbits can develop abnormal behaviour and may suffer if left on their own and with nothing to do for long periods, so keeping them with at least one other friendly rabbit is so important, and something our centres ensure when they're rehoming.
The magic combination is often a neutered male and neutered female, as neutering reduces the likelihood of fighting in both sexes, and prevents unwanted breeding.
Find out more about caring for rabbits.
Tudor Jones MBE, 88, is the chairman of the Tommy Cooper Society; and was formerly chair of the RSPCA's local Glamorgan North East branch for some 37 years. He said:
I was recently giving a talk to an audience in Caerphilly about Cooper's life - and one of the ladies in attendance said her grandson loved nothing more than going to see the statue - but not to see Tommy, but the rabbit instead!
This struck me as a great opportunity to name the rabbit - to hopefully create a bit of interest locally in Tommy Cooper, and the work our Society does.
We put the statue up - unveiled by Sir Anthony Hopkins - a good few years ago; and the rabbit was originally supposed to be climbing up Cooper's shin, but the sculptor had some trouble getting the animal to stick. So, the rabbit was moulded on separately instead and is looking out at the audience, the people of Caerphilly, saying 'here I am, I'm not in the hat'.
While 'rabbit out of a hat' has become a common phrase in our language, funnily enough, Cooper never actually did this trick. We think it's pretty funny and fitting that even we got that wrong given the style of his routine - getting Tommy to do a trick he didn't actually do!"
The Tommy Cooper Society now raises money to install local defibrillators across the Caerphilly county borough, via its 'Tommy's Ticker' campaign - and has installed 14 since the statue was erected in 2008. Tudor added:
Once we'd built the statue, there was a risk of things getting a little anticlimactic - but we have kept the fundraising going. Of course, Tommy's ticker sadly gave up on live TV - so we thought it really fitting to raise money for local defibrillators.
So every year, we celebrate a lunch, all wear fez hats, tuck into a fez-shaped cake and toast Tommy Cooper. Our fundraising efforts have helped pay for 14 defibrillators across Caerphilly already, and if anyone wants to support this work, they can get in touch.
Sadly, the centenary lunch - 100 years after his birth - had to be cancelled due to Covid restrictions; but we made up for it in March of this year to celebrate the centenary plus one and raise more vital funds.
The Tommy Cooper Society also hopes the competition will provide a good opportunity for people across South Wales and beyond to discuss rabbit welfare.
Tudor said:
During my time with the local RSPCA branch, inspectors would often attend our meetings and tell us about rabbit rescues, or sad stories where they investigated rabbit cruelty.
Hopefully, while a new name is chosen, we can also have a really important conversation about rabbit welfare; and the RSPCA's important messaging about good rabbit care can be heard.
Who knows what the name will be? I always remember a mischievous Radio DJ hijacking the competition to name a Royal research ship as Boaty McBoatFace - so perhaps Bunny McBunFace will be the name!
Unfortunately, the RSPCA's Newport Animal Centre - the nearest rehoming facility to the statue - says rehoming of rabbits has really slowed in recent times; and are eager to find suitable homes for bunnies in their care; with more waiting to fill their pens as soon as they leave the centre.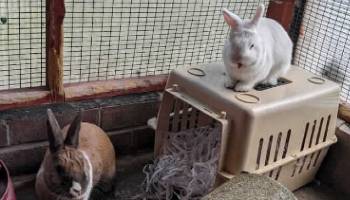 Khloe and Harry, both approximately one year of age, are one established pair of rabbits looking for a home together from the charity's Newport Centre.
The pair could live successfully with sensible children of primary school age.
Khloe is an inquisitive female rabbit and would benefit from having plenty of space to explore and hop around. Her partner Harry is a cheeky, friendly rabbit who enjoys being groomed for short periods of time and enjoys exploring alongside Khloe.
Youngster Reign, meanwhile, was born at the centre earlier this year and is looking for a forever home with a new owner who can work on his socialisation skills. Ideally, he would be paired with a spayed female of similar size; and Reign would likely be able to live with primary school-age children.
Reign is a small rabbit, but he still needs plenty of space as he loves to explore and is very curious about his surroundings.
Kathryn Logan, from the RSPCA's Newport Animal Centre, added:
Khloe, Harry and Reign are just three of the rabbits we currently have looking for a forever home.
It's a bit of a bunny crisis across England and Wales at the moment for the RSPCA - rehoming of rabbits has really slowed, and there are lots of rabbits waiting to come into our centres.
We're getting a lot of cries for help from the public - as we move out of the pandemic, and reality hits about what a commitment keeping a rabbit can be. We know the cost of living crisis is placing enormous pressure on people too.
However, for the right owners, rabbits are incredible pets - and we'd always urge people to consider a rescue animal. We're really hoping - in teaming up with the Tommy Cooper Society - we can bring attention to the countless rabbits in our care and find them the magic of a loving new forever home.
Anyone interested can phone the centre on 0300 123 0744 or email newport@rspca.org.uk. Rehoming visits to the Hartridge Farm Road Centre are made by appointment, and we can't wait to introduce these fantastic rabbits to prospective owners.
The winner of the Caerphilly Observer's competition can pick up a number of top prizes supplied by the RSPCA - including a subscription to its Animal Life Magazine, and Animal Action Magazine for kids, plus a goodie bag of rabbit-themed gifts - including a mug, washbag, wildlife cuddly toy and set of handcrafted figurines. The closing date of the competition is 30 September, and entries can be submitted via the Caerphilly Observer website.
Caerphilly Observer reporter Rhys Williams said:
The Tommy Cooper statue has become a focal point of the town since it was unveiled. This competition is a great opportunity for people to learn more about not just Tommy Cooper, but also animal welfare and Caerphilly itself - so we're delighted to be able to run this alongside the Tommy Cooper Society and RSCPA Cymru.
Anyone interested in buying RSPCA merchandise and helping the charity's animal welfare work can visit the shop online.
---