Toe-tally awesome hedgehog surgery
A vet at our Mallydams Woods Wildlife Centre carried out a delicate surgery to remove a toe from a hedgehog.
The poor hedgehog needed the surgery after he sustained a bone fracture which became infected and caused an abscess on his foot.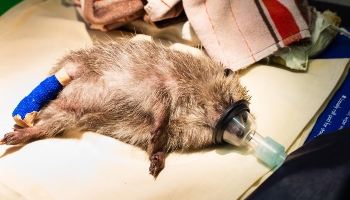 A member of the public found the hedgehog in a garden and he was transferred to us by the Wadars Animal Rescue Charity.
The hedgehog's back foot was swollen and had an abscess, but despite treatment, it wasn't healing and still painful. An x-ray also revealed he had a bone fracture on his toe.
Veterinary Surgeon Joanna Mihr took the decision to amputate the toe and carried out the intricate surgery.
She said:
A hedgehog's toe is very small and so it's quite an intricate surgery to carry out an amputation.
The surgery was a success and the broken and infected toe was successfully removed and then stitched back up and carefully bandaged.
Although I have carried out surgery after the tip of a toe has come off a hedgehog this is the first time I have done an amputation of this kind on a hedgehog. One of the hardest things after was trying to rebandage his leg - as hedgehogs always have a tendency to roll up!
I'm really pleased it was a success and after a few weeks of rehabilitation, he was then successfully released back to the location where he was found.
When we decide to carry out surgery like this the foremost consideration we have to take is to ensure any wild animal will still be fully functional and able to carry out their natural behaviours in the wild after treatment.
The hedgehog, who was found in October, isn't the only wild animal who required a toe amputation recently. Our centre is also caring for a young fox who also had an abscess between their toes which required further investigations.
It was discovered the fox had a painful infection in the bone and also required a toe amputation. Thankfully, the operation was a success and the fox is now recovering well.
Bandages once again proved challenging for the patient - as the fox was always trying to chew the bandage off.
The fox will be moved to an outdoor pen soon and it's hoped she'll be released back to the wild in the near future.
---