Tiny kittens rescued from rubbish conveyor belt in nick of time
Two tiny kittens are lucky to be alive after being spotted by eagle-eyed workers at a recycling centre on the rubbish-sorting conveyor belt.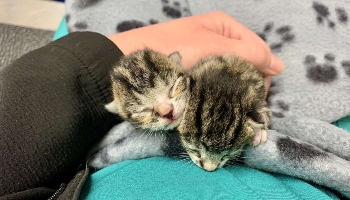 The tabby kittens are only a few days old and still have their eyes closed and cords attached.
Workers at J&B Recycling in Hartlepool spotted the kittens amongst the rubbish on the recycling plant conveyor belt and managed to get hold of them and pull them to safety. They then called us for help.
The kittens were lucky to get spotted
Officer Shane Lynn went out to collect the newborn kittens on the night of Tuesday 22 December. He said:
"These kittens were incredibly lucky to have been spotted by the eagle-eyed workers. If it wasn't for their quick actions they could have been killed by the machinery at the plant.
"Staff believe they may have come from a recycling bin that one of the lorries picked up earlier in the day and were then tipped onto the conveyor belt along with the rubbish.
"They're very young so are extremely vulnerable, especially away from their mum, so we took them to Stanhope Park Veterinary Hospital where the out-of-hours team managed to warm them up and they're now being hand-reared by a vet nurse who will give them all of the TLC they need.
"They were extremely cold and quite weak but, thankfully, don't seem seriously affected by their ordeal so hopefully they should pull through and, eventually, we'll be able to find them loving new homes."
The kittens - two males - are doing well and have been nicknamed Jesse and Bobby (or J&B after the plant they were found at).
The kittens are most likely born strays
It's suspected the kittens may have been born stray to a feral cat in the local area before somehow ending up in the bin that was emptied into the lorry.
Shane added:
"Feral cats can be extremely resourceful and thrive in the wild. But, sometimes, mother cats can choose rather unusual places to give birth to kittens and it may be that this pair's mum chose a bin for shelter before being separated from her babies when the bin was emptied."
We don't have the resources to respond to calls about healthy strays. However, we'll help any injured or sick stray cats, or those in immediate danger, such as these little kittens. If you're concerned about the welfare of a stray cat, please contact our emergency hotline on 0300 1234 999 for advice.
We'll help thousands of animals in need this winter. To help us continue rescuing animals like these kittens, Join The Rescue. Donating £25 could help to keep an animal rescue team on the road.
---