Tik Tok star kept dogs in squalor and cats in a hot aviary
A man who kept eight dogs and five cats in squalid conditions at his home has been banned from keeping animals for six years.
Navdeep Singh appeared for sentencing at Manchester Magistrate's Court on March 28 after pleading guilty to seven offences under the Animal Welfare Act 2006.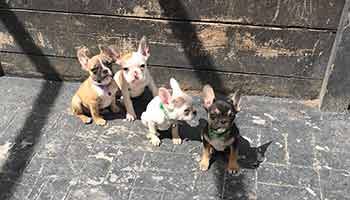 The court heard how four French bulldogs were found in a faeces-strewn yard and four French bulldog puppies were discovered malnourished in a garage when the RSPCA called at Singh's home address. Five Bengal cats were also discovered in an aviary, where temperatures had soared to 36 centigrade last year.
On a visit earlier in the month RSPCA inspector Heather Morris issued Singh with a welfare notice instructing him to clear up the yard and cattery and take one of the puppies to the vet.
He failed to act on the advice and when RSPCA inspector Beth Fazakerley went to Singh's home with two police officers they found the adult bulldogs, Luna, Rocky, Daisy and Blue, in the filthy yard. While the puppies appeared underweight as their ribs were visible and they were hunched up among ripped-up cardboard and faeces in the garage attached to the property.
At the back of the garden was an aviary where the five cats were housed in four separate rooms amid searing heat, which the inspector measured with a temperature gun. There were also no sources of clean water for them to drink.
Of the earlier visit, Inspector Morris said in her witness statement to the court:
The defendant said that he was working a lot on Tik Tok and was making large amounts of money. He said he was quite busy and was planning on selling the house as his relationship had broken down with his girlfriend. He admitted that he wasn't doing enough for the animals.
When inspector Fazakerley confronted Singh about the conditions the animals were living in on the second visit, he claimed that he was a "TikTok star". a crate.
All the animals were seized and taken to Greater Manchester Animal Hospital with the defendant later signing over the puppies and two litters of two kittens who were born after the cats were removed from the property.
Inspector Fazakerley said:
The first thing I noticed as I walked through the main door of the aviary was the extreme heat - within seconds I was sweating profusely and just walking around was uncomfortable.
I took the temperature on my temperature gun and in the cleanest area for the cats it reached 36C. It was cooler in the rear, but there was virtually nowhere for the cats to lie down that was comfortable and clean from faeces and urine. Throughout the enclosure there was straw, piles of rubbish, empty bin bags, old food wrappers and a heat lamp switched on in a crate.
A vet's expert report stated that all four of the puppies were very thin, scoring one out of 9 on a body condition score when an ideal weight would be 4/5.
The vet said:
It is clear the cats' accommodation was excessively hot and would have had a negative impact on these animals, particularly as they had no access to water.
While the temperatures measured in the puppies' accommodation were within the acceptable range, French bulldogs are extremely susceptible to heat stroke due to their brachycephalic conformation and this can have a significant, negative welfare impact and even be fatal if left untreated.
A number of the adults were seen panting and the original call to the police related to the dogs being distressed due to the heat. Brachycephalic dogs must be kept at cooler temperatures than other dog breeds. They should actively be kept out of the sun, have access to fresh clean water and ventilation, such as a fan.
The court was told that Singh wished to have a financial penalty imposed as he was "his mother's main carer and he had many charity commitments".
In addition to the ban, magistrates fined the defendant £7,113 and ordered that he pay the RSPCA prosecution costs of £1,086.98.
Speaking after the sentencing, inspector Fazakerley said:
These conditions were horrendous and the temperature the cats were being kept in was very hot. It was a warm day, but when I went into the aviary I found it difficult to stay inside for more than a couple of minutes as it was so hot.
The puppies were living in the garage and they were in pretty poor condition. One of them was particularly poorly, but she has recovered from her ordeal in our care. She was fostered, along with Luna, by a veterinary nurse at our RSPCA Southport, Ormskirk and District Branch, who has now adopted the puppy.
We've rehomed the other puppies who were signed over to us and we'll now find homes for the adult dogs. A litter of four belonging to one of the adult dogs, Luna, has also been rehomed.
While the cats have been cared for at the Southport, Ormskirk and District Branch, and we'll be looking for new homes for them too.
Rehome a rescue pet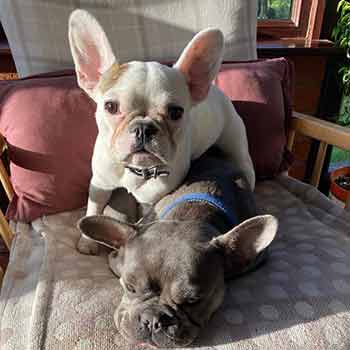 Could you offer a home to a neglected animal like these French bulldogs? We're looking for foster families as well as families looking to adopt an animal into their family.
To help the RSPCA continue rescuing and rehabilitating wild animals in desperate need of care, please donate online or call our donation line on 0300 123 8181.
---