Injured three-legged puss finally finds forever home
A cat who had such severe injuries he had to have his tail and one of his legs amputated is now in a loving new home.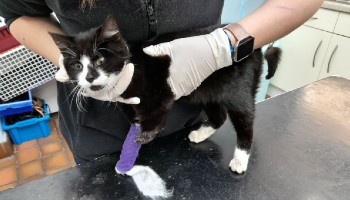 We were called in February this year (09/02) after a black and white moggy - originally named Jarrod but called Skipper by his new owners - was spotted by a local homeowner on Chester Road, Flint meowing and with terrible injuries.
Luckily once RSPCA animal rescuer Jenny Anderton arrived the poorly puss was taken straight to a Grange vets in Mold who were able to hospitalise him overnight and provide him some much needed pain relief.
Jenny said:
Skipper was in a really bad way, I'm not sure if he had been injured by some kind of trap or been stuck somewhere but it didn't look good for him.
I'm so incredibly grateful to the vets who were able to care for him at short notice and to give him a fighting chance at a long and happy life.
Sadly we do see lots of injured animals through our work but Skipper really stuck with me, because of the severity of his injuries and because he's such a character.
He's only a young cat with a lovely nature - although he has certainly used up one of his nine lives!
Despite his weakened state he was still purring and enjoyed cuddles
After being stabilised at Grange Vets Jarrod was moved to Prospect House, Colwyn Bay for his operation.
Vet Helen Sumner said:
Skipper arrived with us having suffered severe injuries to his left foreleg and tail, he was already weak from infection and blood loss.
He'd already been stabilised with intravenous fluids, antibiotics and pain relief by the Mold vet surgery where he was first taken. Despite his weakened state he was still purring and enjoyed cuddles with our nurses.
As he had already been stabilised we urgently proceeded with surgery to remove the badly damaged leg and tail. He quickly adapted after the surgery but needed supportive care and pain relief for a couple of days. Skipper was then well enough to be discharged into the care of one of our nurses for further rehabilitation.
He has recovered amazingly well considering the severity of his injuries at such a young age.
That Skipper has managed to maintain his happy, playful attitude to life throughout all of this makes him a real inspiration as well as a very loveable character. We look forward to seeing him settle into his new home.
After his operation Skipper was taken in by RSPCA Bryn-y-Maen Animal Centre to continue his recovery.
Centre manager Vicky Williams said:
Skipper is a firm favourite with the team and volunteers at Bryn-y-Maen and continues to make us smile each day with his determination to recover from his ordeal at such a young age.
We'd like to thank Grange Vets and Prospect House for supporting Skipper on his road to recovery.
Skipper was rehomed six weeks after rescue
On Friday March 19, just one month after arriving at Bryn-y-Maen animal centre and six weeks after we rescued him, Skipper went to his new home.
It was thought he was living as a stray before his injuries - he was not microchipped or neutered and no one came forward to claim him - although he's very tame and loves a fuss. He's found his perfect home in Trefnant, Derbighshire, with Gabriella Roberts - who has even built a special outbuilding to accommodate Skipper's needs.
Gabriella said: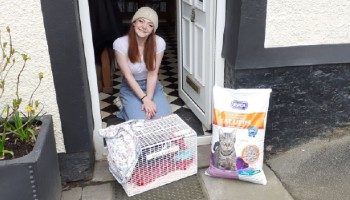 "We contacted the RSPCA in February as we were ready to adopt a cat, after we had sadly lost our dog last year.
"We were so happy when they got in touch and sent a video over of Skipper - we lost our minds when we saw him - and we watched the video every night until he could come home to live with us.
"I can't believe how confident he is and how fast and agile he can move. He has settled in brilliantly - he turns his nose up at cat beds and sleeps on my bed every night so he certainly knows who is boss.
We have all totally fallen in love with him and we're looking forward to giving him the long and happy life he deserves with us. He is our first rescue animal and we are over the moon with how everything has worked out.
Thank you to everyone who played a part in saving Skipper and bringing him into our lives.
Take a look at our find a pet page and give an animal in our care the amazing gift of a forever home.
---